"Dancers have quickly turned to technology for survival"
- Lubna Marium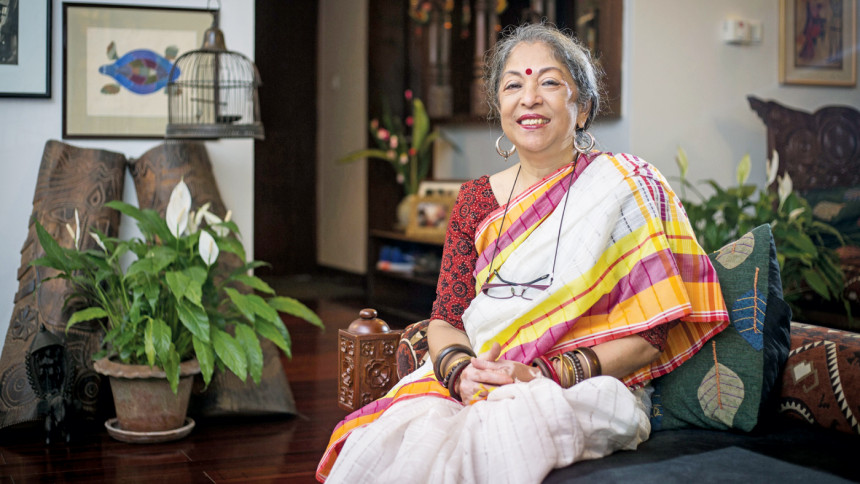 Eminent dancer, art director, researcher and cultural activist Lubna Marium has transformed the face of classical dance through her initiatives. Her organisation Shadhona and her dance school Kolpotoru, have become household names in the industry. The dance connoisseur, who is the current General Secretary of Nrityajog - the Bangladesh Chapter of World Dance Alliance - Asia Pacific and Vice-President (South Asia) of the World Dance Alliance – Asia Pacific, is the founding initiator of the Ocean Dance Festival. In a candid chat with The Daily Star, she sheds light on the challenges faced by dancers during the coronavirus pandemic, and the ways that they are trying to overcome them.
How has the coronavirus pandemic affected dancers?
We have hundreds of dancers in Bangladesh, who need to be supported. Stage shows are the primary source of income for any professional dancer. Some of them earn through teaching as well. However, after consulting with certain event management groups that we work with, we have been unofficially informed that we probably won't have any concerts or corporate events this year. Many artistes have taken up dance as a career after careful consideration, efforts and experiments. However, it saddens me to say that I am not seeing many possibilities in this industry at present.
Now that all stage performances are cancelled and dance schools are closed, how are most dancers coping up?
I have observed that performers all around the globe are doing concerts for safeguarding the arts. A while ago, we had a meeting with Nrityajog, where we discussed the possibilities of arranging online fund-raising concerts for dancers. I also like Bangladesh Shilpakala Academy's initiatives. They have started an online platform, where the dancers can make videos with their choreographies and also continue their online classes, for which the academy is remunerating them.Dance teachers are also earning, since the online classes are active. Shadhona, located in Banani, has also started online classes for the time being. Indira Gandhi Cultural Centre, despite being a foreign organisation, has been supporting us, and we are grateful to them.
How are dancers adapting to these changes?
Dancers have quickly turned to technology for survival. I noticed that Samina Husain Prema and Warda Rihab created marvelous video content. Plus, we have designed an Intangible Cultural Heritage (ICH) medium, an inventory of all the cultural practices in Bangladesh through Shadhona. We have formed a consortium of 12 organisations. We are also trying to train 1000 young students, academics and scholars to interact with various communities and upload information. Fortunately, the Cultural Ministry is standing by us, especially in our two-stage workshops—general knowledge about what ICH is and how information can be uploaded into our website as well as our critical research on cultural heritage.  10 officials from the ministry are participating in our current workshop. The seven ethnic minority culture centres will be joining us soon. Besides, E-pledge has accepted a manuscript from Bangladesh for a book on dance and the Routledge wants the manuscript soon. we are working on that in full swing.
How are you spending time these days at home?
We are in one building with around four families. My daughter is guiding me on yoga basics, meditation and breathing exercises. She daughter has come up with organic remedies and healthy diet plans for all of us.
Do you have any message for your fans, colleagues, and well-wishers?
I would like to appeal to the corporate houses who we have collaborated with for years, especially if they are considering online events. I hope that my well-wishers are keeping fit and staying safe.