Robiul Islam Jibon - Breathing life into lyrics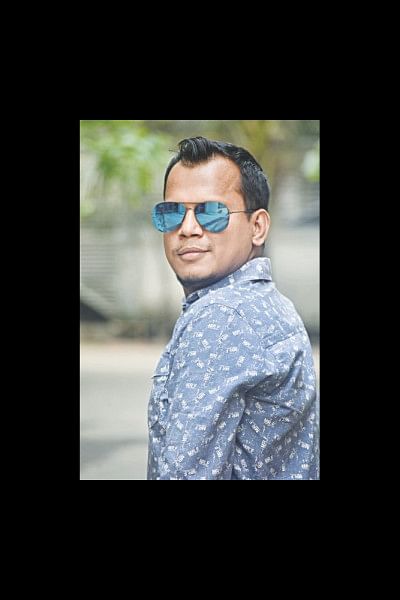 Little did the college-going student in Chattogram know, that one day he would be penning lyrics for some of the biggest names in the entertainment industry. Robiul Islam Jibon was an avid music lover, who left home to pursue higher education, while dreaming to play cricket for the nation someday.
With the grief of homesickness, and a playlist full of melodious tunes, one day while walking back home, Jibon suddenly realised his flair for lyricism. "Inspired by various musicians, I decided to scribble my thoughts down on paper, during 2002. Eventually, those very words took the shape of a song," explains Jibon. Soon his hobby turned into an ambition, for which he triumphed.
His early life in Dhaka, was one that of struggle and hardship. "As a student, I provided younger students with tuition, while keeping my determination rigid about song-writing," reminisces the lyricist.  He officially wrote two songs -- Bharatiya Chai and Bhalobashi Bole -- for renowned musician Asif Akbar's album Hridoye Roktokhoron, which were released in 2007. Ever since then, the talented writer has been composing lyrics for a multitude of artistes.  From legends like Runa Laila and Sabina Yasmin, to the younger generation of musicians like Imran, Naomi, Porshi, Arefin Rumi, Kazi Shuvo, Oyshee and many others, they have all lend their voices for songs penned by Jibon.
According to the versatile lyricist, "I wrote the lyrics for around 700 individual songs, which have been released, till date." He further added, "I have many more songs, which are yet to entertain the music lovers."  Jibon has around 20 songs, dedicated exclusively for cricket including, Jole Utho Bangladesh, Joy Hobei Hobe, Mashrafe (Official Song), Oporajeo and many others. His list of patriotic songs also runs similarly long.
His contribution to lyricism is immense, from music albums to films and tele-fictions, Jibon has penned many popular hit songs and anthems. His fame transcends borders, as many artistes from India have also voiced songs written by Jibon. He was awarded with various accolades over the years and also won the Channel i Music Award multiple times as the Best Songwriter. Despite working as a sub-editor at a Bangla daily professionally, Robiul Islam Jibon continues to pursue his passion as a spectacular wordsmith.