'No regrets in life': Gazi Mazharul Anwar in his final interview with The Daily Star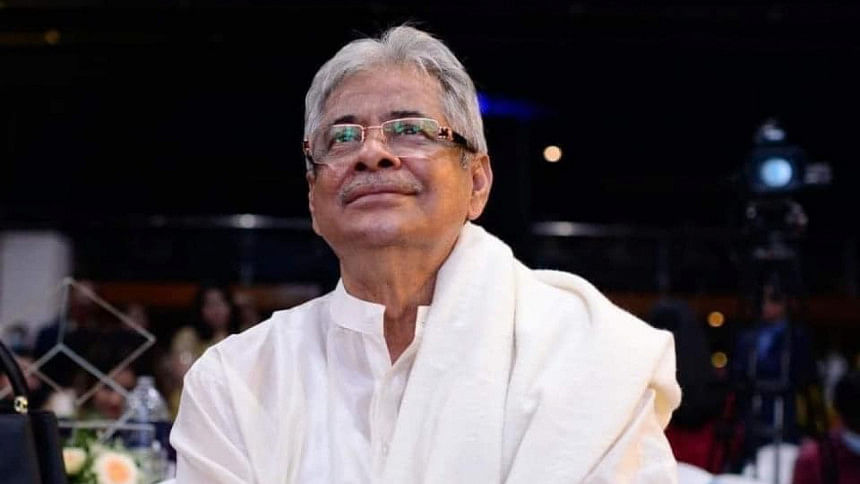 Legendary lyricist, director, producer and screenwriter Gazi Mazharul Anwar passed away today at 6:30 am in the morning. He composed over twenty thousand songs during his illustrious career. Three of his songs have made it to BBC's list of twenty best Bangla songs of all time. On the occasion of his 78th birthday, The Daily Star interviewed the Ekushey Padak awardee and multiple-time National Film Award winner at his Baridhara residence in 2021.
We are providing the excerpts from the memorable interview here.
One of your books is going to be published on this auspicious occasion. Tell us a bit about it.
The book, "Olpo Kothar Golpo Gaan", will feature 200 of my songs and the story behind composing 50 of my most well known melodies. The readers will get to know a lot more about me and my journey from this book. My children, Upol and Dithi, have always wanted me to publish a book that would document my works so far and preserve them for the future. This book is the beginning of this series, and I wish that my pen does not run out of ink before I run out of life.
How has your family contributed to your success?
I have led a happy and content life. I have a son and a daughter, and now I also have a daughter in law. They all value my work from the core of their heart. My wife, Zohra Gazi, was a very popular news presenter and television host. She is also a record holder in jump, and a very popular athlete. We got married in 1972 and from that day, I have seen her fully devoted to raising my kids and taking care of this family. She has given up a lot for me and I could not be more thankful to her. My family is the pillar of my success.
Do you have any regrets?
I have no regrets in life. I have been writing for over five decades and have won to numerous awards, including the Ekushey Padak, National Film Awards, and President's Gold Medal. However, I believe no one works for prizes and neither did I, but these receiving such great honours has always inspired me to work better.
How did you come up with the legendary track, "Joy Bangla, Banglar Joy"?
When Father of the Nation Bangabandhu Sheikh Mujibur Rahman first said, "Joy Bangla" while declaring our Liberation War, we resonated the urge to regain our freedom. That evening, I was sitting with my mentor, Salahudddin sir, at a studio in Farmgate. He urged me to start working on something that keeps the slogan "Joy Bangla" from fading away. I instantly started formulating the song in my mind and called musician Anwar Pervez to the studio. I asked Shahnaz Rahmatullah and Abdul Jobbar to join me in the studio as well.
In the meantime, renowned composer Altaf Mahmud entered the studio and insisted to read the song. He was very pleased and started to work on it immediately. Soon, Anwar Pervez, Shahnaz Rahmatullah, Alauddin Ali, and Abdul Jobbar came to the studio and we all made this song from scratch.
How did you start writing for films?
Satya Saha has been my mentor and inspiration. Bestowed by his affection and love, I started writing for films. He had once taken me to meet Subhash Dutta. I was very young at that time. They explained the theme of the song to me and told me to write a romantic number. I suddenly came up with the line "Akasher Haathe Ache Ekrash Nil" and Satya Saha started composing it. Subhash Dutta was very happy with the song. This is how I entered the film industry.
Do you think we are losing touch with our roots in songs, movies, and dramas today?
Poet Rabindranath Tagore used to say that music should be brought into families, and it may lose its magic if songs deviate from households. This is why Rabindranath-Nazrul's compositions have become timeless, spreading all over the country from their homes. If we lose touch with our roots and culture, how can we ever expect to be ourselves?