Imagine Radio takes off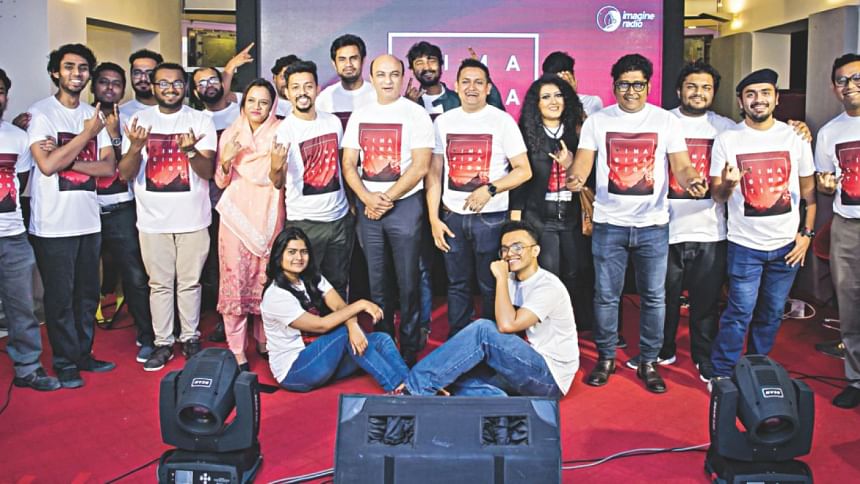 What differentiated Imagine Radio from all other music streaming applications when it launched recently was the earnestness and clarity that the CEO, Shahriar Shahid, promised to bring to the music listening experience. With the endorsement of the biggest names from the music industry, including Feedback, Nemesis, Indalo, Elita, Chirkutt, Bohemian among many others, and a myriad of fresh faces, the platform launched with a unique theme of 'Across the Universe'.
"We will bring an integrated experience of both Bangladeshi and international songs, and make sure to pay due respect to the artistes involved," said Shahriar Shahid. He mentioned that the application is available in 52 countries, and promised to promote Bangladeshi music internationally.
Throughout the event, Imagine Radio Chairman Raihan Shamsi, CEO Shahriar Shahid and COO Ahmed Rakib demonstrated the many features of the app. The platform donned an extra-terrestial theme, as the crew mentioned that they believe music can take anyone to a higher plane of existence at any given time. It was further validated by snippets of various bands, including Nemesis and Chirkutt, performing on different planets in a video-promo shown during the ceremony. The most renowned artistes from the industry performed in a homely atmosphere eventually, which was arguably the most unique part of the launch. Bappa Mazumer, Labu Rahman, Elita Karim, DRockstar Shuvo among many others further lit up the festivities and had fun while doing so.
 As of now, more than 10 million songs are available for streaming through Imagine Radio, which is available on both Android and IOS.