ARNOB'S FIRST 'SOLO' SHOW
A mixed bag of emotions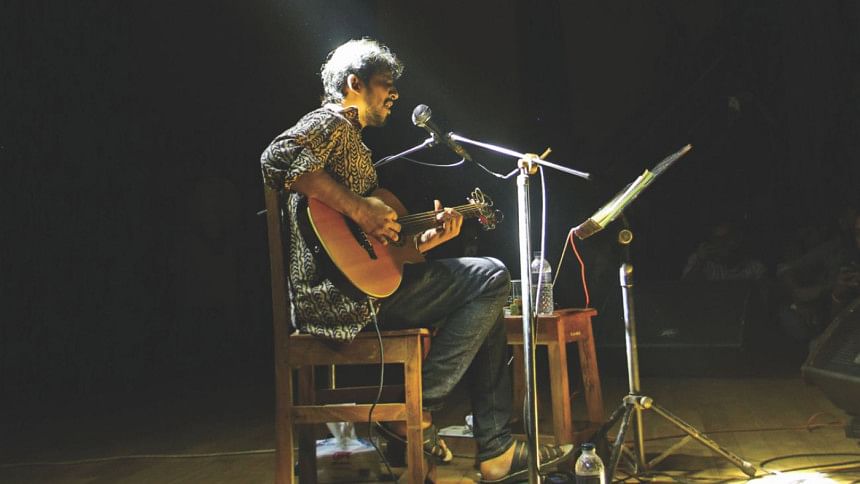 On October 19, 2018, the auditorium of Chhayanaut Cultural Center was full of youthful zest, as it prepared for a performance of one of the most beloved and versatile Bangladeshi musicians of the last decade. 'Arnob Live', hosted by Dhaka Broadcast was, on paper, an unprecedented success as crowds poured in to experience their favourite singer.
Upon entering the premises, I could sense the excitement in the audience as they could hear Arnob sound-checking behind the curtains. However, as time went on, the impatience in the audience grew as more people entered into the already cramped up space. This delayed the show by an hour, and I was questioning whether the capacity of the venue was taken into account before selling this many tickets.
After squeezing in the last batch of audience members, some of whom had to accommodate themselves on stage steps,  the curtains were finally lifted to reveal Arnob. He was  sitting with his guitar centre-stage, while a dramatic white light fell on him. He started singing Hok Kolorob, and it was a sight to behold as hundreds of people began singing along with him. After the song ended, he told the audience that he was unwell and took sips of hot tea.
It was clear that Arnob's gifted voice was struggling to retain its former glory. In between sips of hot tea,he proceeded to perform some fan favorites, including Tomar Jonno, his rendition of Majhe Majhe Tobo Dekha Pai, Lal Paharir Deshe Ja  and a cover of Taray Taray. For me, it was a little disappointing to see my favorite singer not being able to sing with strength, while forgetting the lyrics to some of his own songs. Closing the show with Purano Sei Diner Kotha, he let the audience sing most of the song to the rhythm of his acoustic guitar. 
So, with a heart half-full, I left the venue, hoping to get another chance to see Arnob perform with more passion and tenacity in the future.