"I used to sing when I was young"
…Moushumi Barua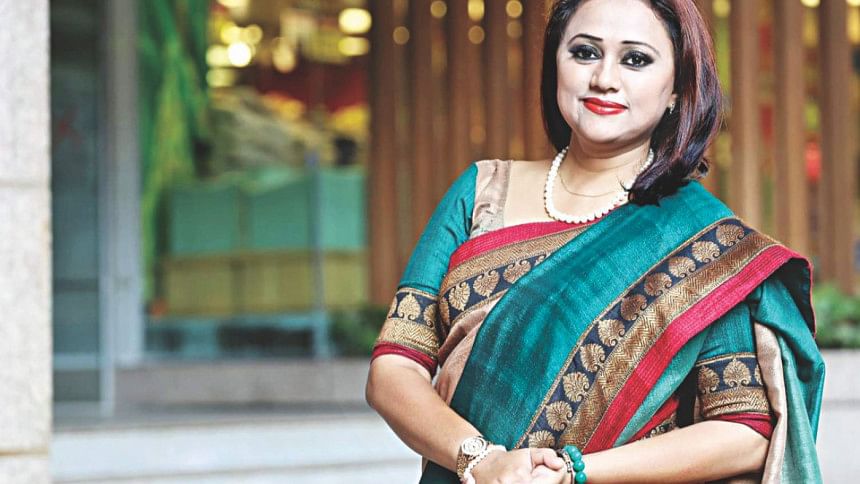 In the entertainment industry, actors and singers often bag the limelight, creating bigger challenges for other artistes seeking to pave their way in other avenues. But that has not been so for Moushumi Barua, who has created a household name for herself years ago as a television programme host. Her most notable contribution lies in her 18 years of service for Channel i, where she tactfully covered programmes surrounding a myriad of issues. The Daily Star recently had the opportunity to get to know the TV personality a little better, including her life off camera.
How do you like spending weekends?
MB: I love spending time with my family, especially with my dear mother and the famous singer Shaheen Samad who is like my elder sister. We both enjoy shopping together and going to the movies. And since she's a singer, I get to visit a lot of cultural programmes with her.
What was the last film you've enjoyed?
MB: That would be "Gohin Baluchor", directed by Badrul Anam Saud.
What are you currently working on now?
MB: Well I've been a programme producer and host for Channel i for the past 18 years, and currently I am hosting 8 or 9 shows. There are special, shorter programmes which I host as well, such as "Taray Taray Deepshikha", which is coming up soon.
Coming from a well known musical background, how did you venture into hosting?
MB: I used to sing when I was young, as my entire family is deeply immersed in music. I joined Channel i upon the encouragement of my parents when I was quite young. The scenario was quite different back then; as there were not many TV stations, the field was more demanding and extremely competitive. I underwent a month-long training process before I was even allowed to be in front of the camera. All the hard work made great pay-offs; over the years I have enjoyed hosting programmes spanning many different issues. In 2015, I was bestowed with an honour in Los Angeles for representing my country for many years.
Beyond the camera, what other passions do you have?
MB: My hobby has always been getting to know people, their experiences and stories, and what makes them the way they are.