Dhaka Int'l Folk Fest opens today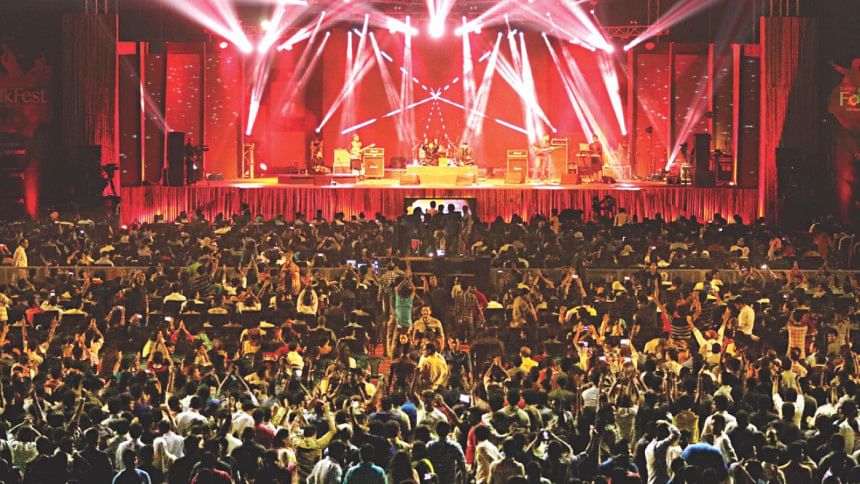 The third edition of the Dhaka International Folk Festival opens today at the capital's Army Stadium, amid much anticipation and fanfare. Assamese (India) singer Papon, a fan favourite of the festival, will perform on the opening day, along with Brazilian composer-musician Maurucio Tizumba and Australia-based Tibetan folk musician Tenzin Choegyal. Upcoming Bangladeshi folk band Baula will open the festival, while noted folk singer Fakir Shahabuddin will also enthrall the audiences today. The concert is set to begin at 6pm and continue till 1:30am into the night. 
The festival, presented by Meril and powered by Dhaka Bank, is being organised by Sun Events. Attendance to the festival is free but is only through an online registration process that ran from November 1-5. The extent of the festival's popularity was apparent when registration numbers had to be limited per day, and many people have said they failed to register for the festival, often due to the web site being unresponsive possibly due to the high network traffic in the registration window (from 12pm until the daily quota was completed).
Angarag Mohanta, known best by his stage name Papon, grew in popularity through his Bollywood playback songs like "Jiyein Kyun", "Moh Moh Ke Dhaage" and "Kyon", as well has his performance on the Indian edition of Coke Studio through songs like "Dinae Dinae", "Jhumoor" and more. His music contains the soothing melodies of the northeastern Indian folk and combines that with contemporary arrangements.
Mauricio Tizumba hails from Belo Horizonte in Brazil, and has a career spanning four decades in which he has established himself as a singer, instrumentalist, composer, actor and cultural entrepreneur. He is highly regarded in Latin America for his relevance for Afro-Brazilian art and founding of important artistic movements of the cultural scene of the Southeastern Brazilian state of Minas. At the festival, he is set to perform with his sextet, a six-piece band.
Tenzin Choegyal is a Tibetan artist, composer, activist, musical director and cultural ambassador currently based in Australia. Tenzin has a successful international career as a musician, playing at such prestigious events as WOMAD and composing music for films and prestigious film and cultural festival, His brand of music containing the essence of the nomadic Tibetan people and their culture, focusing on humanistic values.
Fakir Shahabuddin is a veteran folk artiste of the country, who has performed in the country and abroad. His musical style is energetic, keeping the authentic tonality of Bangla folk songs from various regions, be it of Sylhet or Chittagong.
Baula is a Bangladeshi folk trio of Prakash Banik, Joy SInha and Mainuddin Khan Sayonto, that began their journey in 2013, and has gained popularity among listeners. Their simplistic musical arrangements often consisting only of a flute, a guitar and a banjo, bring out the flavours of Bangladesh's folk music.
Organisers have set some rules for festival-goers with concerns to security; no bags are allowed inside, except for small purses for women within a certain size limit. The registration passes are not transferrable and one must present their photo ID for verification while entering the festival.