Painting is my passion - Bipasha Hayat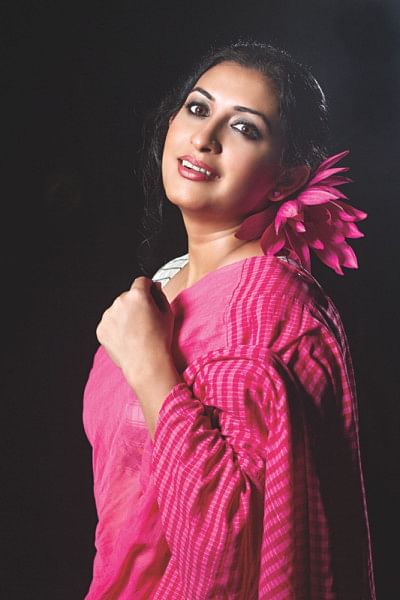 When do you usually write?

Bipasha Hayat: I like to work in silence. I can't write with chaos or noise around me. This is why most of my writing is at night, when it's quiet and my thoughts are uncluttered.
How do you manage to juggle so many activities?

Bipasha Hayat: I work less frequently as an actor now. I try to devote much of my time to writing screenplays and paint too. My aim is to channelise my love and care into whatever I have chosen to work on. My work is the product of my love, and I do it for the love of my audience too.
Are you working on a story at the moment?

Bipasha Hayat: Not really, but I have written a short story titled "Ekti Odbhut Premer Golpo", that was published in Prothom Alo. A few days ago I wrote a poem, and for Eid I worked on a few screenplays.
Do you like to call yourself a writer?

Bipasha Hayat: I am not a professional writer, so I will not go by that title. However, there is unfettered freedom in writing; there are no limits to what you can dream up. I enjoy looking at the ordinary lives of men and women and writing about them.
When do you usually manage time to work on your paintings?

Bipasha Hayat: I usually work at night when everyone is asleep. Sometimes I also work while my children are playing. Painting is my passion and there was a time when I considered pursuing it full time.
Any plans to work on a new screenplay?

Bipasha Hayat: At the moment I am not working on a new screenplay. I have only done one so far, titled "Amra Shomudro Dekhte Giyechhilam." Joya Ahsan and Tauquir Ahmed were the actors and it was telecast on Desh TV.
Can you share your memories of your father, renowned actor Abul Hayat?

Bipasha Hayat: My father was a completely different person from me, and I can never aspire to reach the same heights of talent or respect. I have accompanied him to rehearsals and shootings and he is the inspiration behind the scripts I write, everything I do. 
What do you want for your children?

Bipasha Hayat: I just want my children to grow up into good human beings and find beauty in the little things in life. For that they have to have utmost respect for nature and the people around them.
Do you miss working in theatre?

Bipasha Hayat: I miss being on stage a lot. Those are days that will never return. I like to listen to the audio of staged plays, and recently heard "Tiner Talawar" which I really enjoyed. Sometimes at home I practice poetry recitation.
What are you reading at the moment?

Bipasha Hayat:  Currently, I am reading "Meghnad Bodh," a collection of poems by Michael Madhushudhan Dutt.
How does it feel to be a celebrity?

Bipasha Hayat: I do not regard myself as a star. When you have figures of stature in history like Tagore, or Shakespeare I am a mere ordinary human being. My only goal is to lead a simple, yet fulfilling life.