DIVERGING PASSIONS BROUGHT TOGETHER
Fazlur Rahman Babu shares his musical journey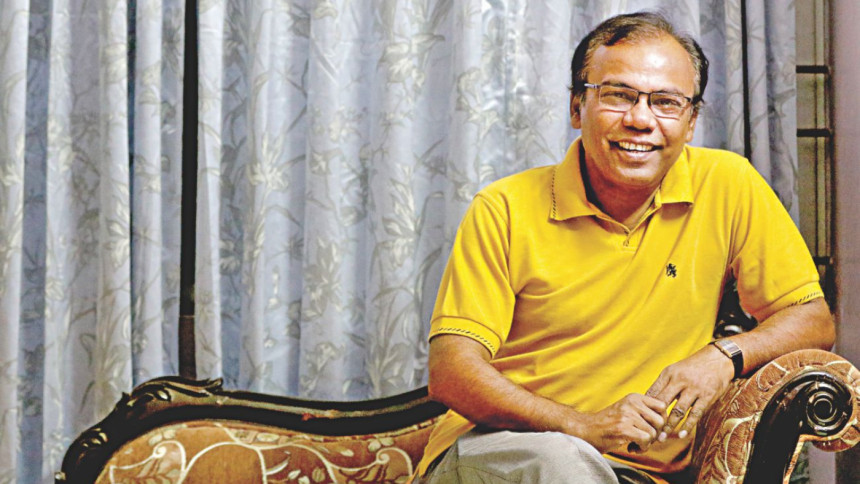 One of the most well-known faces on television, Fazlur Rahman Babu has charmed his audience since the beginning of his career through his performances in more than one hundred television plays, along with a number of films. Upon the release of "Monpura" back in 2009, another one of Babu's talents came to the fore: singing. His soulful, baritone voice has since been heard ever so often, in albums and film soundtracks. Babu spoke to The Daily Star about his music:
When did you first discover your musical talent?
Fazlur Rahman Babu: It actually began with theatre. In my theatre group, Aranyak Natyadal, we do a lot of musicals. I usually ended up with the characters who had a lot of singing to do. In one particular play called "Jay Jayanti", I played the character of a kirtan singer. That was the first time the audience saw me as a singer. I suppose that was where I first got my start as a singer.
How did playback singing begin for you?
Fazlur Rahman Babu: It was quite sudden, when Giasuddin Selim asked me to sing for the film "Monpura" -- that too, one of the major tracks, "Nithua Pathare". The history behind this approach was when we would all hang out at Rajshahi University, this song was very popular in our 'addas'. I learned about this song there, and perhaps so did Selim. There were also many times, during after-shooting 'addas' when I would sing for fun. With Arnob's composition, the song worked very well and seemed to have spread across the country amongst people of all walks of life. That was amazing to see. I then went on to sing for many of my other films. In Humayun Ahmed's "Ghetu Putro Komola", I sang most of the playback even though I didn't act in it. Among films I have acted in, I have sung for "Meye ti Ekhon Kothay Jabe", "Nuru Mia O Tar Beauty Driver", and the upcoming "Gohin Baluchor".
You have gone abroad many times to sing. How did that come about and which countries have you visited for this purpose so far?
Fazlur Rahman Babu: These are just invitations I get purely from the love of my fans.  Many non-residential Bangladeshis scattered across the world organise different events for occasions such as Pahela Baishakh, Eid or Puja. They invite me for such events, to celebrate amongst themselves, and make me a part of the celebrations. I am first and foremost an actor, and I have been invited for that purpose as well. There are many times performers like us are invited for different purposes, sometimes theatre, sometimes music, and sometimes both. For example, recently Brindaban Das, Chanchal Chowdhury and I went to places like Australia, New York, and countries across Europe, for theatre performances, where we also did musical performances. I've been to places like Switzerland and Italy, and more, for such events.