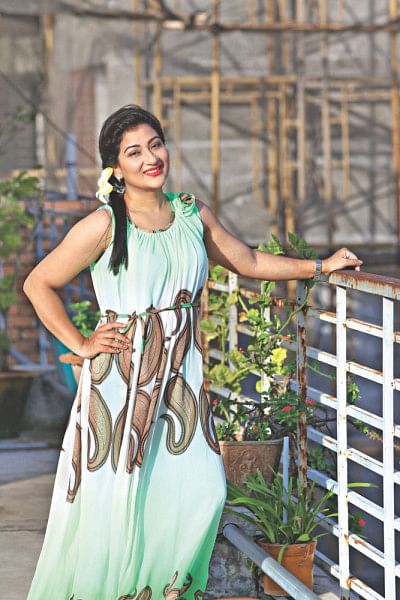 With a career span of 19 years in the industry, Deepa Khandaker has come a long way in the field of acting and later modeling. She garnered a wide fan base especially from the TV fictions which in due course, landed her with a role in a cinema from Kolkata. The Daily Star recently caught up with the artiste to find out how she is coping with her career and latest endeavours.
Can you shed some light regarding your feelings on the film?
The feeling is fantastic! After all, this is my first film in the long stretch of my career. It's titled Bhaijaan Elo Re and was released in Kolkata. According to the director and my co-artists, it has gained much popularity among the moviegoers. However, I feel somewhat disappointed as well.
Why would you say so?
First and foremost, I am a Bangladeshi artiste. If the film was released here along with Kolkata, which was the initial plan, my fellow citizens and fans here could have enjoyed it as well.
What is the reason behind the delay to venture into films?
During my years in TV, I did receive a handful of offers for films, but they never saw the day of light. However this time, I felt the ball was in my court, simply due to the story and the character. If these two elements are up to my standard, I would gladly act in films.
We have learnt that the film might be released here in Bangladesh, what do you think?
Yes, I've heard that too. I want it to be released here following all the proper procedures, so the audience can enjoy it. I wanted to go to the other side of the border to watch Bhaijaan Elo Re, but I could not arrange for it due to my schedule here.
How involved are you nowadays with TV fictions?
I started shooting right after the Eid holidays. Currently, I'm working on a TV serial for BTV called Locket. Besides that, I am also scheduled to shoot for another TV serial soon.