The Revenant rules at Baftas 2016
Wilderness drama The Revenant, starring Leonardo DiCaprio, has dominated this year's Baftas.
It was named best film while DiCaprio won best actor and Alejandro G Inarritu best director.
The Mexican director described the win as "overwhelming". He said DiCaprio's "talent and commitment" to the "risky project" had "kept the film breathing".
The ceremony at London's Royal Opera House on Sunday was hosted by Stephen Fry.
REACTION TO BAFTA WINNERS
DiCaprio, who plays fur-trapper Hugh Glass, said he was "humbled and honoured" and praised the influence of British actors on his acting career. He also used his win to wish his mother a happy birthday.
Apocalyptic action movie Mad Max: Fury Road took four awards: for make-up and hair, editing, costumes and production design.
Brie Larson won the best leading actress award for her role as a kidnapped mother in Room.
Director Lenny Abrahamson, who picked up the award on her behalf, called her "one of the best actors of her generation."
Both supporting acting prizes went to British winners.
Steve Jobs star Kate Winslet was named best supporting actress, beating double nominee Alicia Vikander, Jennifer Jason Leigh, Rooney Mara and fellow Brit Julie Walters.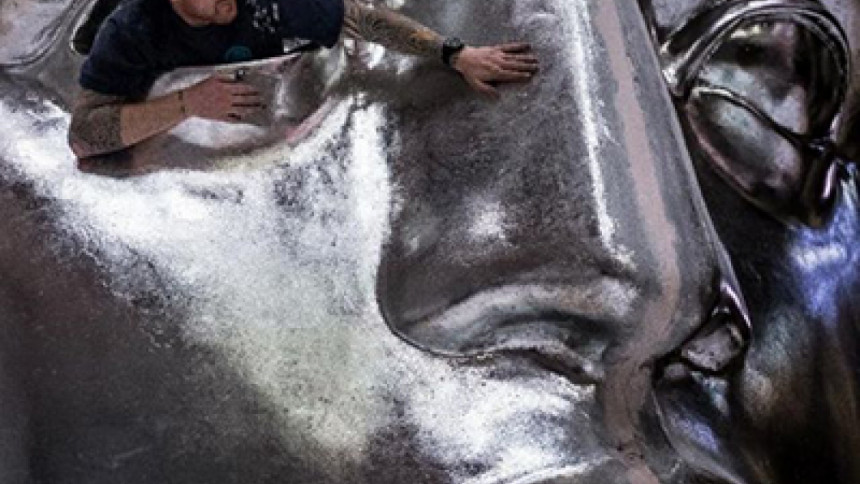 Picking up her statuette, Winslet praised her fellow nominees saying it had been "an extraordinary year for women".
She also gave thanks to the real Joanna Hoffman, Jobs' loyal assistant, who she said was "so wonderful telling her stories to me".
Mark Rylance won best supporting actor for his role as British-born Soviet agent in Bridge of Spies.
The first award of the night, for outstanding British film, went to period drama Brooklyn, in which Saoirse Ronan plays a young Irish woman who emigrates to New York.
Its director John Crowley said: "One of the things this film is about is kindness of strangers - as this film has made its way out into the world the warmth of response has been overwhelming."
'A FLUKE'

Star Wars actor John Boyega won the Rising Star Award, the only one of the awards to be voted for by the public.
"I haven't been doing this for a long time - it's a fluke," said the London-born actor, who had earlier got the loudest shouts from film fans along the red carpet.
"I'm going to share this with all the young dreamers who are determined and hard-working - this is for you."
Best documentary went to Amy Winehouse documentary Amy, about the singer who died in 2011.
Director Asif Kapadia said he had wanted to show "how intelligent and how witty she was before it all went out of control".
Producer James Gay-Rees took a swipe at the way she was treated by the media: "Next time someone like that comes along let's try to be a bit more grown up about it."
Emmanuel Lubezki's win for cinematography for his work on The Revenant was his fourth Bafta.
The Mexican has won for the past three years, having previously picked up statuettes for Birdman and Gravity. He'll be hoping to repeat that feat at the Oscars in two weeks' time.
Financial crash comedy The Big Short won the award for adapted screenplay.
Director and writer McKay thanked studio Paramount "for taking a risk on this movie".
"This movie is not just about banking, it's about income inequality, and making choices for society that are made by all of us and not just by a select few," he said.
The Baftas have largely avoided the diversity row that has engulfed this year's Oscars.
A small demonstration by members of the Creatives of Colour Network took place near the red carpet.
Australian actress Rebel Wilson made light of the diversity issue on stage when she presented the award for best supporting actor, saying she had been "practicing my transgender face" in the hope of winning a future award.
The obituary section included tributes to Alan Rickman, Maureen O'Hara, Omar Sharif, David Bowie, Ron Moody, Frank Finlay, Saeed Jaffrey and Sir Christopher Lee.
Sir Sidney Poitier was honoured with the Bafta Fellowship for his outstanding contribution to film. He was unable to attend the ceremony in person due to health reasons.
However, in a video message from his home in Los Angeles, he said: "Thank you for your warm embrace and this extraordinary moment - a memory I shall cherish always."
Angels Costumes, the world's longest-established costume house, now in its 175th year, received the outstanding British contribution to cinema award.