Stage set for Oscars night tainted by race row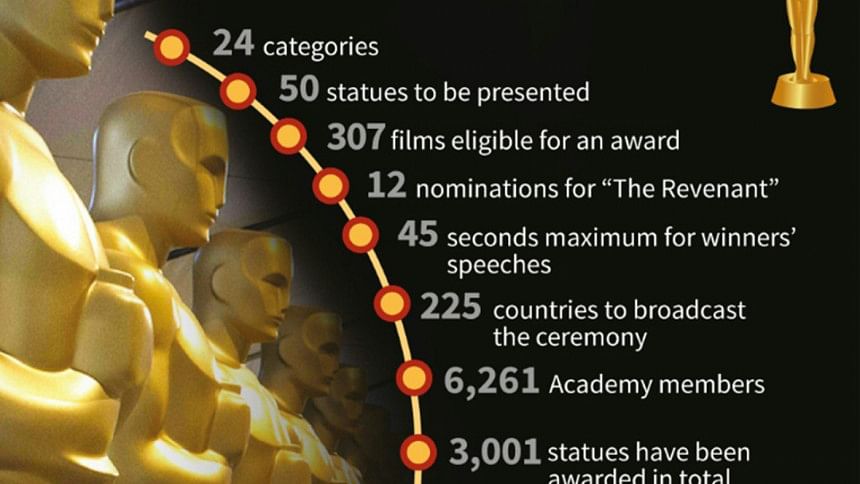 The Hollywood awards season reaches its glittering climax at Sunday's Oscars, with bleak survival epic "The Revenant" tipped to clean up on a night overshadowed by a simmering race row.
Viewers around the world will tune in to see who wins at Tinseltown's most prestigious prize ceremony, but controversy over the "whitewashing" of nominations has threatened to steal more headlines than the tough competition.
Analysts are backing "Revenant" star Leonardo DiCaprio to bag his first golden statuette on his fifth acting nomination, while Brie Larson has dominated the awards season with her performance as a kidnapped mother in "Room."
"Leonardo DiCaprio winning for 'The Revenant' will not be a surprise," said Los Angeles-based film awards expert Anne Thompson.
The Indiewire blogger called the 41-year-old DiCaprio a "beloved movie star at a time when there aren't many," pointing to the punishing film shoot he endured in freezing weather conditions to portray 19th century fur trapper Hugh Glass.
"He ate a bison liver. The Academy goes for this stuff," she told AFP.
"Spotlight," about child abuse in the Catholic Church, and Wall Street satire "The Big Short" look like safe bets for the original and adapted screenplay honors after being recognized by the Writers Guild.
STALLONE'S YEAR?
The race for supporting actor and actress, as well as the statuette for best director, remain too close to call however, with only a couple of days to go before the big night.
Sylvester Stallone ("Creed") and Alicia Vikander ("The Danish Girl") grabbed the early awards buzz by taking home a Golden Globe and Screen Actors Guild award, respectively.
Triumph for Hollywood darling Stallone, who gets standing ovations at most industry gatherings, is seen as the potential feel-good story of the night, four decades after his first nomination for playing the same role -- boxer Rocky Balboa.
But the 69-year-old sentimental favorite is facing a late surge in the talent-heavy supporting actor category from BAFTA winner Mark Rylance, who played real-life Soviet spy Rudolf Abel in "Bridge of Spies."
Christian Bale ("The Big Short") and Mark Ruffalo ("Spotlight") also could pull off a major surprise.
Vikander is competing with "Carol" star Rooney Mara, on her second nomination, and Britain's Kate Winslet, who earned wide acclaim for her work in "Steve Jobs" -- and already has a best actress Oscar for "The Reader."
When nominations were announced last month, "The Revenant" emerged as the frontrunner with 12 nods, followed by stark action epic "Mad Max: Fury Road" with 10 and Ridley Scott's space adventure "The Martian," with seven.
Britain is expected to do well again this year, with British films or talent accounting for 41 nominations, around a third of the total.
WHITE BIAS
With voting among the Academy's 6,000-plus members closed since Tuesday, the frenzied and at times schmaltzy campaigning that perennially marks the awards merry-go-round can no longer impact the results.
The glamorous culmination of the awards season risks being engulfed however by criticism over its overwhelming bias toward white nominees.
No ethnic minority actor or actress has been nominated for the second year running, sparking an outcry against the Academy and a social media campaign under the hashtag #OscarsSoWhite.
A global audience usually estimated at several hundred million will be hanging on every word uttered by black comedian and actor Chris Rock, who is on board to host despite calls for him to join a boycott.
Insiders say the 51-year-old will tackle the controversy head-on, and has completely reworked an opening monologue that could prove embarrassing for the Academy's voting members, overwhelmingly white men.
HISTORIC DOUBLE?
The issue is not just an Oscars problem -- a report released this week warned of an "inclusion crisis" for ethnic minorities, women and the LGBT community in film and television.
"The hashtag #OscarsSoWhite should be changed to #HollywoodSoWhite, as our findings show that an epidemic of invisibility runs throughout popular storytelling," the report from the University of Southern California concluded.
Mexico's Alejandro Gonzalez Inarritu, who helmed "The Revenant," will be one of the few high-profile non-white contenders on Sunday after being nominated for best director.
Inarritu, who picked up a second Directors Guild of America award (DGA) in a row and a BAFTA earlier this month, won the Oscar for best picture last year for dark comedy "Birdman."
Only twice has a director won back-to-back Oscars -- John Ford for "The Grapes of Wrath" and "How Green Was My Valley" in the early 1940s and Joseph L. Mankiewicz for "A Letter to Three Wives" and "All About Eve," a decade later.
Predictions website Gold Derby has Inarritu as a strong favorite, and Scott Feinberg, the awards analyst for weekly magazine The Hollywood Reporter, told AFP he expected the historic double for the Mexican.
But Indiewire's Thompson predicted a split, with "The Revenant" picking up best picture and Australian auteur George Miller getting best director for "Mad Max: Fury Road."
"Most predictions are going with DGA winner Inarritu for 'The Revenant,'" she told AFP.
"But I believe that the DGA is a more mainstream group and that the higher-toned Academy -- with all its craft and technical categories -- will reward Miller for his big-scale creative artistry."
The Oscars ceremony begins at 5:30 pm (0130 GMT Monday), after the traditional red carpet parade, when Hollywood's A-listers strut their stuff for the cameras.