Furious 7 releasing in Dhaka on US release date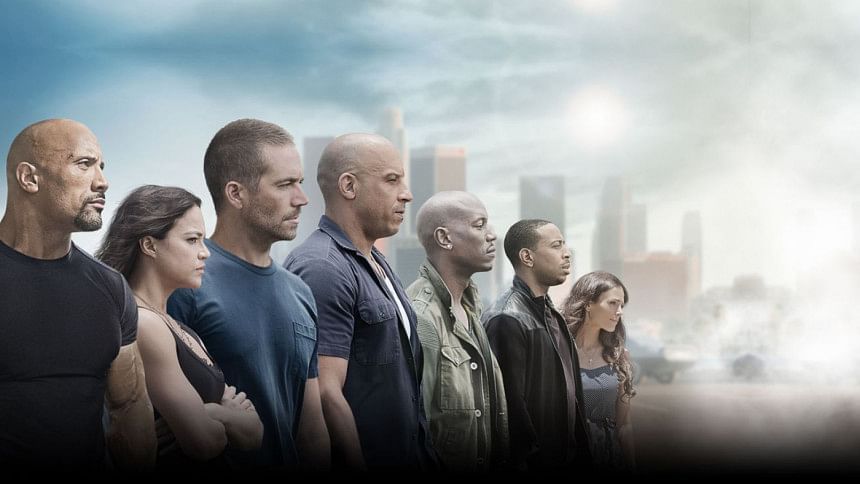 The seventh film of the Fast & Furious franchise that has been seeing staggering global attention recently -- is set to release in Bangladesh on April 3, the same day as its US release.
Star Cineplex is bringing the high-octane film to the Dhaka audience, through a special premiere tomorrow (April 2). The premiere will feature exotic car show with DJ and lighting decorated ambience at the Bashundhara City entrance, in presence of celebrities. 
The film, which suffered a huge setback when its star Paul Walker died in a tragic road crash in 2013 halfway through filming, paid heartfelt tributes to the star in the film.
Franchise regulars Vin Diesel, Dwayne 'The Rock' Johnson, Michelle Rodriguez, Tyrese Gibson are all part of the cast along with Walker (whose brothers played his partfor the rest of the filming, along with some CGI superimposition of his face in some scenes), while Jason Statham plays the villain, Noel Gugliemi will reprise his role from the first Fast & Furious film, and rapper Iggy Azalea is set to make a cameo appearance.
The film is directed by James Wan and produced by Neal H. Moritz and Vin Diesel.  
Worldwide anticipation has been building up for the final film of Paul Walker, and Box Office forecasts are signaling towards record-breaking numbers, so to be able to experience the film on the big screen along with the rest of the world is surely a great opportunity for lovers of the franchise and genre in Dhaka.