Film Review: Swapnajaal
Giasuddin Selim delivers on his promise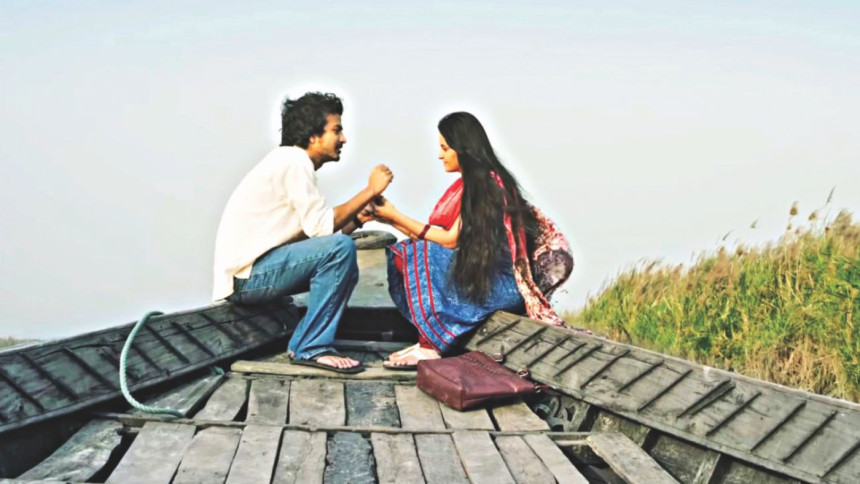 There was considerable buzz surrounding "Swapnajaal" ever since it was announced, and that discussion only gathered pace as the film neared its release – from the choice of the central cast to the secrecy surrounding its plot details.  The rather limited release (in 22 theatres across the country) of the film on April 6, however, was a little anticlimactic for the multi-starrer, but judging by early reactions, the momentum is on its side.
Set in the riverside Chandpur suburbs of the '90s, "Swapnajaal" at its core is the story of Opu (Yash Rohan) and Shuvra (Pori Moni), two teenagers in 'young love'. Their blooming romance take a dramatic turn south when conniving influential businessman Aynal Gazi (Fazlur Rahman Babu), with the help of his trusted aide Thandu (Iresh Zaker) tactfully oust Shuvra and her family from their home. Opu fights back to bring justice to Shuvra's family and to get back his love, but even after justice is served, there are bigger obstacles on the way to their reunion.
On his return to the big screen following a nine-year hiatus since his directorial debut "Monpura", Giasuddin Selim proves that he understands the Bangaldeshi middle class audience - the one that made "Monpura" a soaring box office success against the odds – better than most filmmakers in the country.
There is a lot to love about the film, and the story is the first of them. "Swapnajaal" contains every cinematic element that is a signature of classic South Asian cinema – romance, conflict, tragedy, the hero's plight, poetic justice and the truth of society – in perfect balance. Selim's treatment of these elements deserves applause. The romance is sweet and innocent; the conflicts are intense but there is no violence on screen; with these, he ensures that audience of all ages and social groups are at ease. Emotions and relationships are kept simple yet relatable, and with (mostly) seamless dialogue the narrative progresses smoothly. 
The acting is another key factor to the film coming through. Pori Moni in particular is a revelation; despite playing a role way out of her comfort zone, she sits in character from the start and only grows stronger as the film moves on. Yash Rohan also gives a fairly tight performance for a newcomer. But it is the support cast that elevates the film. Fazlur Rahman Babu, Iresh Zaker, Farhana Mithu, Shahidul Alam Sachchu, Misha Sawdagar, Shilpi Sarkar Opu, Shahed Ali and their Indian counterparts Brattya Basu, Biplab Banerjee, Reshmi Sen and Rajat Ganguly all portray sincere, believable characters. Fazlur Rahman Babu has been on a roll in recent years with one memorable performance after another in "Oggatonama", "Haldaa" and "Gohin Baluchor" and continues that form into it.
Kamrul Hasan Khosru's cinematography is all but flawless, and the art direction (by Anowarul Haque and Samar Halder) is also commendable, especially in the latter part of the film.
There are a few issues with the film, though, although most of it will not bother most people. The sound design is a little spotty, with the acoustic license often used too liberally. The screenplay does get a little sluggish in the second half, and some climactic moments do not build up well enough. A few plot points are also left unresolved but to his credit, Giasuddin Selim establishes the suspension of disbelief well enough for the audience to not be too bothered by it. The music, by Rasheed Sharif Shoaib, is pretty but all-too-fleeting, with some vocals feeling a tad too over-processed.
Overall, "Swapnajaal" delivers on most of its promise and anticipation. It is the kind of film that can bring audiences back to the theatres (however few and far between they are) and one can only hope that Giasuddin Selim's next comes out sooner than another nine years.