Pori Moni, like never before
First trailer of Giasuddin Selim's "Swapnajaal" released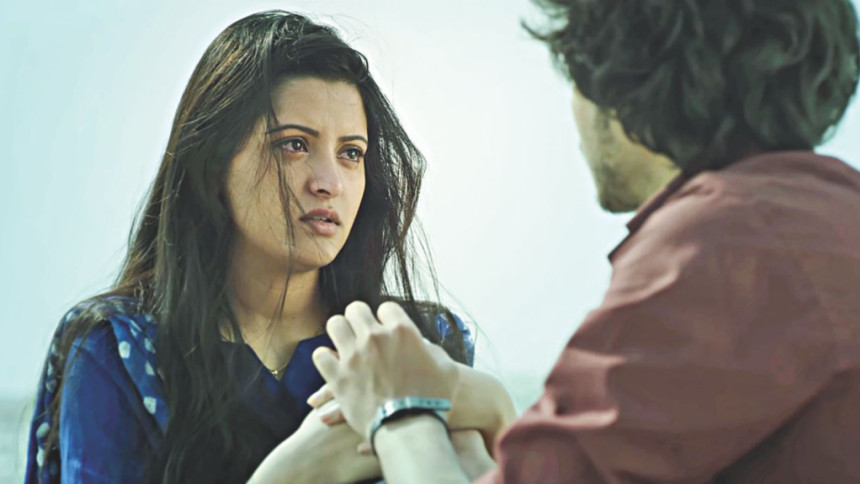 The first trailer of Giasuddin Selim's much-anticipated film "Swapnajaal" was released online on Saturday night, on the closing day of the Bengal Classical Music Festival. Produced by Bengal Creations (an initiative of Bengal Foundation), the trailer gives an intriguing first look at the Bangladesh-India joint venture.
The film, Giasuddin Selim's follow-up to "Monpura" that took Bangladeshi cinema by storm eight years ago, sees a solid cast including Fazlur Rahman Babu, Misha Sawdagar, Iresh Zaker, Shahidul Alam Sacchu, Rajat Ganguly and Reshmi Sen, but the real star of the trailer is Pori Moni. One of the top heroines of Bangladeshi commercial filmdom, Pori has never been known for her acting chops, but the trailer shows a whole new side to her. In a de-glam, sensitive and heartbreaking role, she steals the limelight every time she is in frame. Yash Rohan, who is the male lead in the film, also impresses in the first look.
The film, set in the '90s in suburbs of Bangladesh and India's West Bengal against the backdrop of communal riots, is a love story between two young souls. In what promises to be a complex, dramatic story, the two lovers get pulled apart and look to reunite. Kamrul Hasan Khosru's cinematography is gorgeous, and with Giasuddin Selim's strength of handling conflict, romance and pathos it should be no surprise if "Swapnajaal" becomes one of the most remarkable films of this year.
N Rashed Chowdhury, creative director of Bengal Creations told The Daily Star that the film could come to theatres as early as February. "We will submit the film for censor within this week, and hope to release the film next month." He also said more promotional materials and campaigns are underway for the film in weeks to come.