Adam West, the first Batman, dies at 88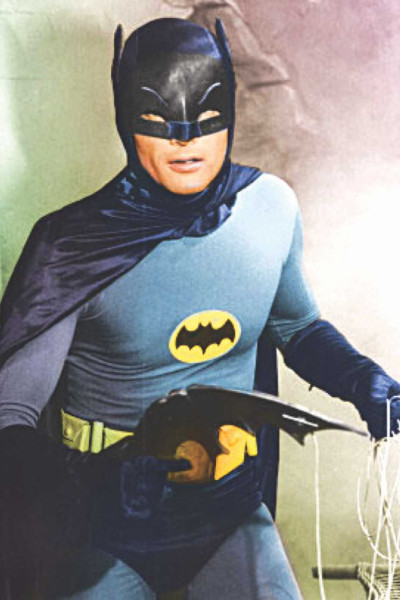 Adam West — an actor defined and also constrained by his role in the 1960s series "Batman" — died Friday night in Los Angeles. He was 88. A representative said that he died after a short battle with leukemia.
 "Our dad always saw himself as The Bright Knight, and aspired to make a positive impact on his fans' lives. He was and always will be our hero," his family said in a statement.
West became known to a new generation of TV fans through his recurring voice role on Fox's "Family Guy" as Mayor Adam West, the corrupt, inept and vain leader of Quahog, Rhode Island. West was a regular on the show from 2000 through its most recent season. West in recent years did a wide range of voice-over work, on such shows as Adult Swim's "Robot Chicken" and Disney Channel's "Jake and the Neverland Pirates."
But it was his role as the Caped Crusader in the 1966-68 ABC series "Batman" that defined West's career.
With its "Wham! Pow!" onscreen exclamations, flamboyant villains and cheeky tone, "Batman" became a surprise hit with its premiere on ABC in 1966, a virtual symbol of '60s kitsch. The half-hour action comedy was such a hit that it aired twice a week on ABC at its peak. But within two seasons, the show's popularity slumped as quickly as it soared.
West's portrayal of the superhero and his alter ego, Bruce Wayne, ultimately made it hard for him to get other roles, and while he continued to work throughout his career, options remained limited because of his association with the character.
In February 2016, CBS sitcom "The Big Bang Theory", which had hosted a number of geek favorites over the years, celebrated its 200th episode — and marked the 50th anniversary of "Batman" — with an appearance by West.
West made his feature debut in 1959's "The Young Philadelphians," starring Paul Newman. Before he donned the mask and cape, West was a rising star in late 1950s and early 1960s TV series, notably Westerns and cop shows. His film roles in this period were few and far between but included a part in the 1965 Three Stooges vehicle "The Outlaws Is Coming."
West was also prolific as a voice actor. He worked on dozens of animated series during the past 40 years, from numerous incarnations of the Batman character to "Kim Possible", "SpongeBob SquarePants", "The Fairly Oddparents", "The Boondocks" and "Penn Zero: Part-Time Hero".
Born William West Anderson in 1928 in Walla Walla, Washington, the actor later adopted his stage name, and began his career in earnest when he moved to Hawaii in the 1950s to star in a local children's programme.
Source: Variety