TIB's anti-corruption cartoon exhibition underway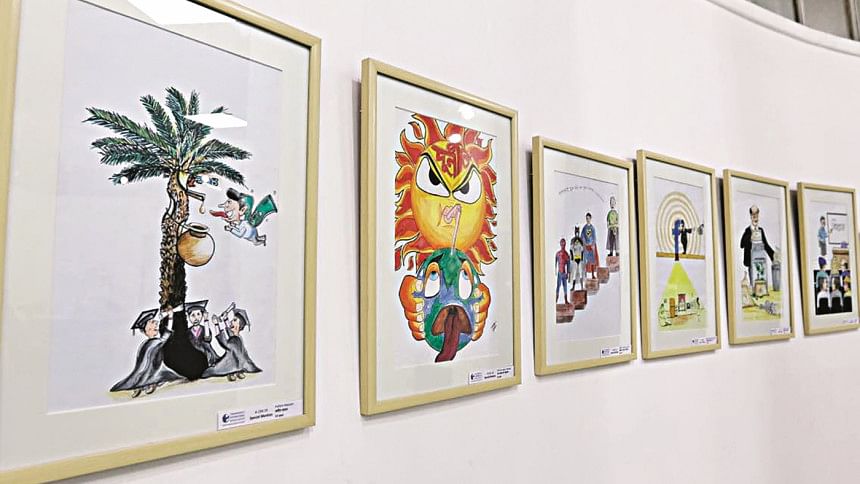 Marking the International Anti-Corruption Day (December 9), Transparency International Bangladesh (TIB) inaugurated their 14thAnti-Corruption Cartoon Competitionand Exhibition, as a part of their anti-corruption social movement. Since 2006, these competitions and exhibitions are being organised with an objective to raise awareness and motivate the young population to combat corruption in every sphere of life. Selected pictures from the competition are currently on exhibit at the Zainul Gallery of the Faculty of Fine Art, University of Dhaka.
The exhibition was inaugurated in the presence of  Suzanne  Mueller, Deputy Head of Mission and Director of Cooperation, Embassy of Switzerland, Refika Hayta, Deputy Head of Mission, The Royal Danish Embassy,  Mohamed Yousuf, Governance Adviser,  Department for International Development (DFID) Bangladesh and Dr Iftekharuzzaman, Executive Director, TIB.  Professor Dr Fakrul Alam, member of the Board of Trustees of TIB, chaired the event. 
"I find this competition to be a very good tool to raise awareness. I must say that I'm very impressed with how talented these young artists are," said Refika Hayta. "The only way to combat corruption is to start with the individuals. Every single person should have the ability to say 'no' to corruption. The youth is taking ownership and playing an active role in raising awareness through this competition, which is inspiring."        
The winners of the competition were awarded in the inauguration ceremony. The competition was held in two age groups- Group A (aged between 13 and 18) and Group B (aged between 19 and 25). The top three winners from Group A were Moshiur Rahman Mahin, Isiah Tripland Heaven and Ishrat Jahan Lubna. The top three winners from Group B were Abdul Malek Nobel, Tarek Bin Kamal and Momi-Tu-Ur Rahman.  The exhibition concludes on December 15.