Humanising harsh reality through art
Harun-ar-Rashid Tutul's Colliding Collages at AFD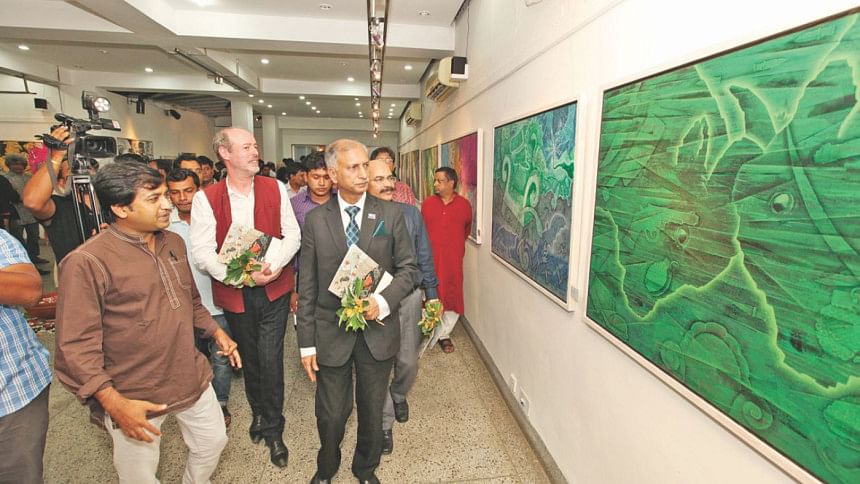 Entering into La Galerie of Alliance Française de Dhaka, art lovers can't but gaze in wonder at paintings by Harun-ar-Rashid Tutul, an Assistant Professor of the Department of Graphic Design of the Faculty of Fine Art (FFA), University of Dhaka. The artist's first solo exhibition titled "Colliding Collages" is a succinct attempt to trace the roots of man-made crises and their ramifications in modern lives. He delineates the ruthless waves of time on large acrylic canvases. The presence of precise space, post-modern and contrasting forms, compositional novelty, reasonable colours and innovative graphical representation impart a touch of uniqueness to the current exhibition.
Such a large-scale exhibition on contemporary yet crucial themes is a gift for art connoisseurs. Tutul's paintings tell the tales of greedy people's attempt to over exploit nature, as well as unplanned urbanisation, environmental degradation, contemporary socio-political scenario, the decay of social norms and values and unbearable sufferings of the helpless masses.
Tutul is an avid patriot. He nurtures the conscience of Liberation War, history and heritage in his heart. "The 14th December" is a painting within painting by the artist. He poetically portrays the brutal killings of our martyred intellectuals. 
The artist's other work "March to Liberty" also glorifies our War of Independence. "Brain-Drain" is a surrealistic work by Tutul. He also satirically depicts the so-called development causing harm to many things in a piece titled "Piercing Development" where he has used his own physique. "Exploding City", "Trail of Destruction", "Time and Realty", "Metro-polithine City", "Ominous Omen" are among his other works displayed at the gallery.
Professor AAMS Arefin Siddique, Vice-Chancellor of University of Dhaka, inaugurated the exhibition on July 27 while national project manager of CDMP Mohammad Abdul Qayyum attended as special guest. Professor Nisar Hossain, Dean of FFA of Dhaka University, noted artist Professor Mohammad Eunus and artist-art critic Mostafa Zaman Mithu were present as guests of honour.
The art show is open from 3pm to 9pm (Monday-Thursday) and 9am to 12pm plus 5pm to 8pm (Fridays and Saturdays) till August 5.