Bimanesh Biswas' exhibit opens at AFD Book on SM Sultan launched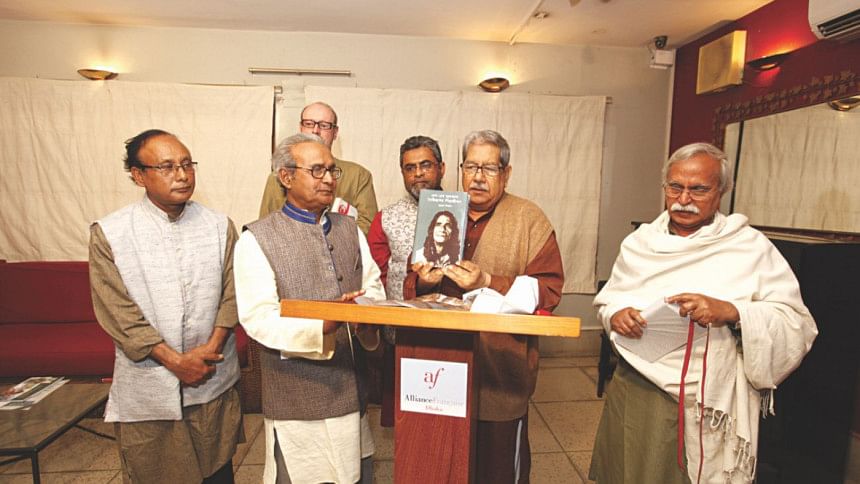 The inaugural ceremony of an exhibition titled "Cosmic Beauty" by Bimanesh Biswas was held at the Alliance Francaise de Dhaka (AFD) Gallery on Friday. The programme will run till February 19.
A biographical book on SM Sultan, "SM Sultan: An Artistic Life of Variety" by Subhash Biswas, was also launched.
Emeritus Professor Anisuzaman, Professor Abul Barq Alvi and Bruno Plasse, director, AFD, spoke on the occasion.
Bruno Plasse delivered the welcome address, and said there was a fine depiction of the beauty of villages in the paintings, a testimony to the great artistic talent in Bangladesh.
Professor Abul Barq Alvi said that Bimanesh was a student of Sultan. He was admitted to this college and did his Masters with Sultan as his guide, philosopher and friend. 
Bimanesh shows riverbanks, rural waterways and mangrove forests in his works, presenting the lush greenery and scenic beauty of Bangladesh. The works are in acrylic and watercolour.
The book by Subash Biswas, "SM Sultan: An Artistic Lifestyle of Variety" is enriched with known and unknown facts about SM Sultan, including his contribution to Patachitra, woodwork, pottery, idols and other art forms.