Everest epic gets Venice film fest off on a high note
"Everest", an account of a 1996 disaster on the world's most famous mountain, got the 72nd Venice film under way on a high note.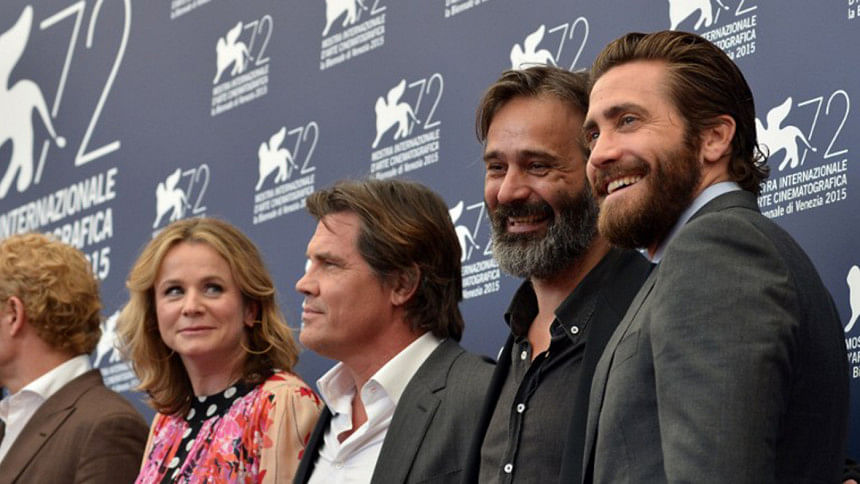 "Everest", an account of a 1996 disaster on the world's most famous mountain, got the 72nd Venice film fest under way on a high note with the $65-million production winning praise for its use of 3D technology to bring the majestic scale of the Himalayas to the silver screen.
Director Baltasar Kormakur's two-hour film recounts the events of May 10-11, 1996, when eight climbers died near the summit after being caught in ferocious blizzard conditions.
In particular it focuses on the internal dynamics and characters of two groups of guides and climbers, one led by New Zealander Rob Hall, played by Australian actor Jason Clarke, the other by American Scott Fischer (Jake Gyllenhaal).
Portrayed as equally talented but temperamentally contrasting, the two men were among those who died over the course of two days in which an unprecedented 34 people were attempting to reach the summit in conditions which ultimately resulted in a series of life-and-death decisions having to be made under almost unimaginable duress.
Hall, famously, was able to say goodbye to his pregnant wife, played in the film by Keira Knightley, via a combination of two-way radio and satellite phone, just before he perished.
Given that such poignant details of the tragedy were widely publicised at the time, the challenge for Kormakur was to retain viewers' attention despite most of them knowing how the story ends.
He has taken that on with a production that is part disaster movie, part thriller and part examination of the varying mindsets and motivations that lie behind the stock mountaineer's response to why one climbs a mountain: "because it's there".
The British-produced film includes sections shots in the Italian Dolomites, Kormakur's native Iceland and in Nepal -- something the director says was vital to both how the film looked and how the actors understood their roles.
- 'Intimate and epic' -
"There are visual effects but they are visual effects created from endless shooting of real mountains," he said. "And I wanted the actors to draw from nature. We were trying to make something as intimate as an indie film and at the same time as epic as a blockbuster."
The disaster, at the time the worst there had been on Everest, raised questions over whether the increasing commercialisation of climbing had led to the perils involved being under-estimated.
Kormakur's vision of events certainly suggests commercial pressures to get as many clients to the top may have contributed, indirectly, to the fatalities.
But it avoids pointing a finger of blame at any of the surviving protagonists, some of whom have published their own, contradictory, accounts of what happened.
"It is a very important balance you have: you are dealing with people's lives but at the same time you are trying to be truthful, not only to them but to yourself," Kormakur said.
"Everest" is being shown out of competition, with festival director Alberto Barbera hoping his curtain raiser will have a similar impact to "Gravity", which opened in Venice two years ago and went on to win a slew of Oscars, and "Birdman", which also enjoyed critical and commercial success after being unveiled on the Lido last year.
First reviews were encouraging rather than gushing with the Hollywood Reporter praising the "eye-popping, you-are-there visual techniques" and predicting box office success. Variety was sniffier with its "hardly a peak achievement" verdict.
- Netflix debut -
Also due to be shown for the first time on Wednesday was streaming giant Netflix's debut foray into feature films, "Beasts of No Nations".
The Carkey Fukunaga-directed drama about child soldiers in Africa is among 21 works competing for the festival's top prize, the Golden Lion.
Featuring Idris Elba and an otherwise largely unknown cast, the adaption of Uzodinma Iweala's novel will be released in October simultaneously to a limited number of cinemas and to Netflix's 65 million subscribers around the world.
Major cinema chains in the United States and elsewhere have so far refused to screen the film in protest at being deprived of their customary exclusivity period.
Despite their opposition, most industry figures see such releases as likely to become the norm for all but the biggest blockbusters in the near future as broadband technology transforms how film lovers opt to pursue their passion.
"Everest" is one of two major productions being given a first screening during the festival.
Johnny Depp is due in town later in the week for the premiere of Scott Cooper's "Black Mass", in which the "Pirates of the Caribbean" star plays Irish-American mobster James 'Whitey' Bulger.
There is also much excitement about the unveiling of "The Danish Girl", the latest work by "The King's Speech" director Tom Hooper.
It features Oscar-winning British actor Eddie Redmayne in the role of a Danish-born artist who was one of the first people to undergo sex reassignment surgery.