Struggle for Liberation in melodies and movies
Programme for Independence Day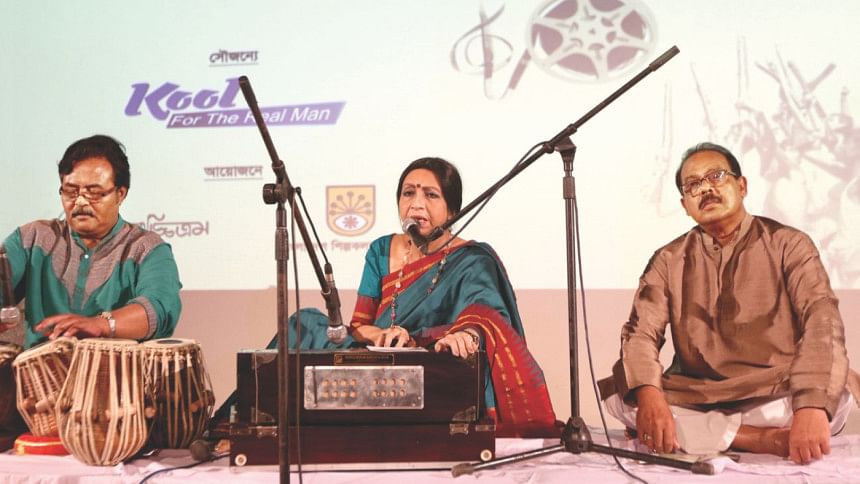 Marking the 45th anniversary of Independence Day, Chalachchitram Film Society and Bangladesh Shilpakala Academy (BSA) jointly arranged a musical programme and film screening at the National Art Gallery auditorium of BSA on March 29 and 30.
The musical evening, held on Tuesday evening, captured the spirit of Liberation of Bangladesh and a few other countries.
The most spirited melodies of the country echoed in the voices of four reputed singers, while a lovely touch was added to the programme by showing songs of the freedom movements of six other countries on a projector screen.
The event, titled "Deshe Deshe Shadhinota O Mukti'r Gaan Ebong Chalachchitra" began with a choral rendition of "Mukti'r Mondir Sopan Toley" by Mahmudul Hasan, Nishi Kawsar, Mustafizur Rahman Turjo and Israt Jahan Bithi.
Then Mohiuzzaman Chowdhury Moyna presented "Ma Go Bhabna Keno" before leaving the stage for noted singer Dalia Nausheen who performed the well-loved melody "Ek Shagor Rokter Binimoye".
Nasima Shaheen came up on the stage to present "Ek Nodi Rokto Periye", while Mahmudul Hasan rendered another solo "Je Maatir Bukey Ghumiye Achhe".
The four artistes performed several solos each presenting some of the tremendously popular tracks.
Dalia Nausheen sang "Sei Rail Line er Dharey" and "Tara E Desher Sobuj Dhaner Sheesh e", while Nasima Shaheen performed "Sob Ko'ta Janala Khuley Dao Na" and "Swadhinota Ek Golap Fotano Din".
Mohiuzzaman Chowdhury Moyna presented "Rokto Golap Futechhe Oi" and "Salam Salam Hazar Salam".
Mahmudul Hasan sang "Mora Ektu Phul Ke Bachabo Boley", while Nasima Shahin and Dalia Nausheen jointly sang "Ekti Bangladesh Tumi Jagroto Jonota".
 The musical soiree came to a close with the entire audience singing the iconic song "Purbo Digonte Surjo Uthechhe", written by Govinda Halder and composed by Samar Das, along with the artistes.
On March 30, two films: Palestinian film "The Time That Remains" by Elia Suleiman, and Bangladeshi film "Anil Bagchir Ekdin" by Morshedul Islam were screened at the programme.