Shilpakala celebrates Nazrul birth anniversary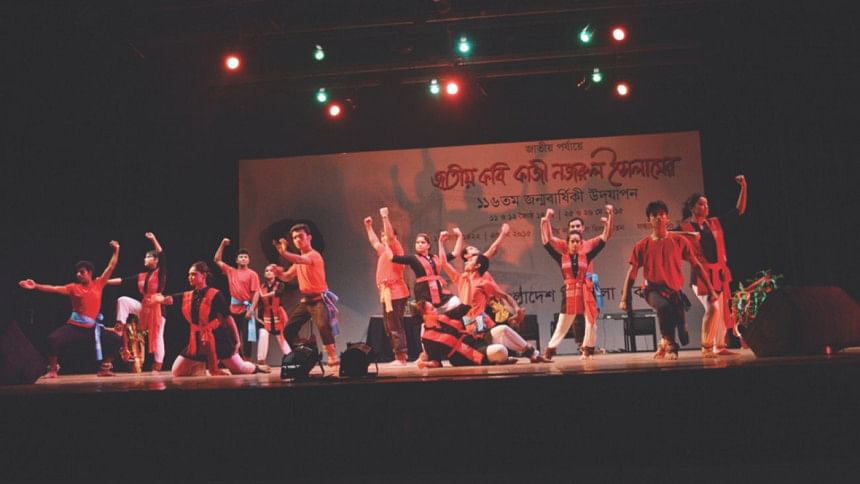 Marking 116th birth anniversary of National Poet Kazi Nazrul Islam, Bangladesh Shilpakala Academy (BSA) arranged a two-day celebration programme. On May 25, Ahmed Rafiq and Dr. Karunamaya Goswami discussed on poet's life and literary works. Secretary to BSA Jahangir Hossain Chowdhury presided over the programme. 
Child artistes of BSA set off the event with performing "Mora Jhonjhar Moto" and "Shukno Patar Nupur Paye". BSA Repertory Dance Troupe presented a choral dance while choreographed and directed by Minu Haque, artistes of Pallavi danced to a patriotic song "O Bhai Khati Sonar Cheye Khati". Choreographed by Farhana Chowdhury Baby, a dance-drama "Hajar Taar-er Bina" was also staged at the venue.
Noted Nazrul singers -- Salahuddin Ahmed, Khilkhil Kazi, MA Mannan and Rahat Ara Geeti performed solos "Bhul Kore Jadi Bhalobeshey Thaki", "Arun Keno Korun Ankhi", "Kar Nikunjey Raat Kataye" and "Chokh Gelo" respectively. Renowned singer Shabnam Mushtari also rendered a solo at the event. Elocutionists Dalia Ahmed, Agomony and Meer Barkat recited Nazrul poems on the occasion.  
The programmes continued on May 26 at National Music and Dance Centre auditorium, where BSA Repertory Music Troupe and artistes of Nazrul Institute offered choral songs while dancers of Rewaz Performing Art Centre, Nataraj and Sristi Cultural Academy presented group dances at the event. Noted dancers-choreographers Munmun Ahmed, Laila Hasan and Anisul Islam Hero choreographed and directed the pieces. 
Reputed singers Khalid Hossain, Dalia Nausheen, Fatema Tuz Zohra, Rebeka Sultana, Sumon Chowdhury, Nasima Shaheen, Anindita Chowdhury and others rendered solos while elocutionists Laila Afroz, Shimul Mustapha and Faizullah Sayeed recited poems at the event.