Preparations for Pohela Boishakh in full swing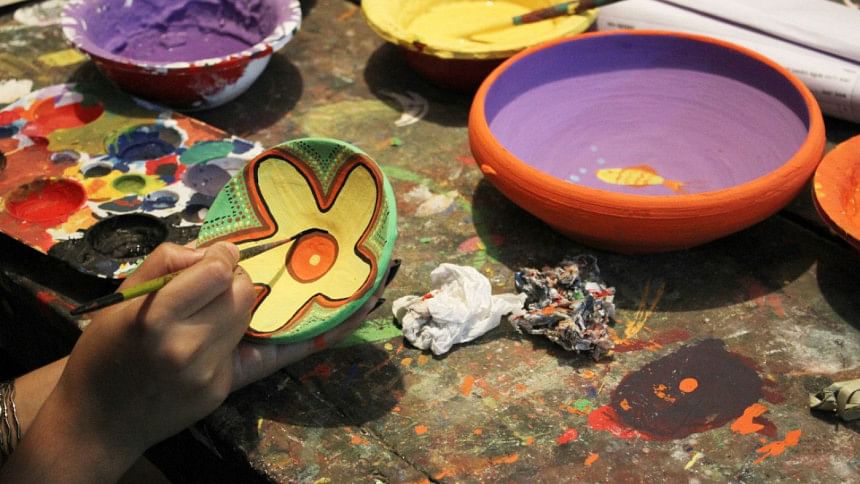 Preparations for Chaitra Sangkranti and Pohela Boishakh are gathering steam in Barisal city.
Volunteers of Charukala Barisal are working round the clock to organise the traditional Mongol Shobhajatra from Brojo Mohun Biddyaloy (BM School)  ground on April 14 morning with a Rakhi Bandhan (friendship ties) ceremony inaugurated by Mir Mujtaba Ali, senior cultural activist.
Mongol Shobhajatra will end at Barisal City College grounds.
Charukala Barisal will also arrange a two-day long Lokojo Sangskritik Prodorshani ( folk cultural fair) , painting competition at Barisal City College ground  focusing on regional life, performances of  folk songs and dramas like Jari, Sari, Royani, Hoyla, and a painting exhibition.
A three-day Boishakh Utsab with Boishakhi Mela and cultural functions arranged by Udichi at BM School ground will also be held.
Shabdaboli Group Theatre at Barisal Central Shahid Minar, Chander Hut at Barisal TB Clinic field, Planet World Children Park at park premises and local businessmen at Hatkhola will arrange Chaitra Sangkranti Utsab, Boishakhi Mela, and cultural programme in the city from April 12-15.
Kheyali Group Theatre will arrange a 'Sangskritik Adda' and cultural show at their office premises, to bid farewell and welcome Bangla year from April 13 evening to early hours of April 14.
Udichi Shilpi Gosthi at BM School and Sur Lahori Songeet Biddayaloy, Parantik Songeet Biddayalaya, Anirban Shilpi Gosthi, at Ashwini Kumar Hall premises, will also hold cultural programmes on the early morning of Pohela Boishakh to welcome new Bangla year.
Gono Shilpi Sangstha will stage cultural shows of folk songs and plays in front of Barisal Aswani Kumar Hall on Pohela Boishakh afternoon.