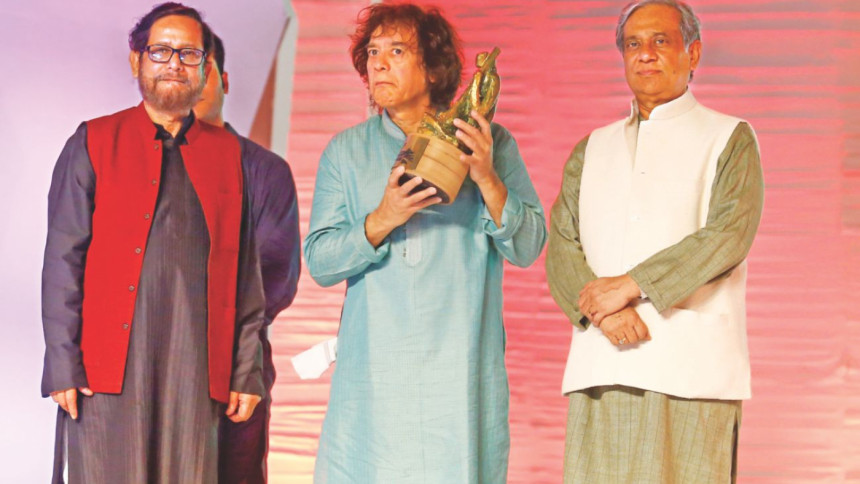 The penultimate night's musical proceedings of Bengal Classical Music Festival 2015 were evocative of musical magic, thanks to the graceful visual poetry portrayed on stage by Raja and Radha Reddy and troupe, divine rhythms produced by legendary Ustad Zakir Hussain; soothing santoor played by Pt. Shivkumar Sharma; nostalgic recital of sarod by Pt. Tejendra Narayan Majumdar; a sawal-jawab styled Carnatic violin recital by Ganesh and Kumaresh Rajagopalan and pristine performance by the lone vocalist of the night Pt. Ulhas Kashalkar.
Legendary Ustad Zakir Hussain started off his magical tabla recital with presenting teentaal while Sabir Khan, son of late sarangi maestro Ustad Sultan Khan, played Raga Madhukauns on his sarangi. Set on various kayda on teentaal, Ustad Zakir Hussain produced heavenly sounds representing rhythms of a train leaving a station. A stunning intrusion of chik (high-pitch sound) embellished the tehai part of the kayda. The legend's fingers seemed like magical wands that transparently generated each and every stroke incorporating standing rhythms on baya and aesthetic beats on two tablas. He played only bol on baya that thoroughly enthralled the audience as the maestro simultaneously fabricated sounds of the damru and the conch together.
A breathtaking tehai was obvious at the end of the piece. A composition called "Laalkella" came next where the living legend showcased the old days' traditional drum rhythms usually styled by army musicians. He also played a Lahori gaut of 300-year old. The artiste also delineated a visual of two friends -- one is energetic and another is lethargic -- along with the piece proceeded with tisra jati bol. Slotting in just two syllables -- "Dhin" and "Ta", the music maestro played a small particular piece pattern.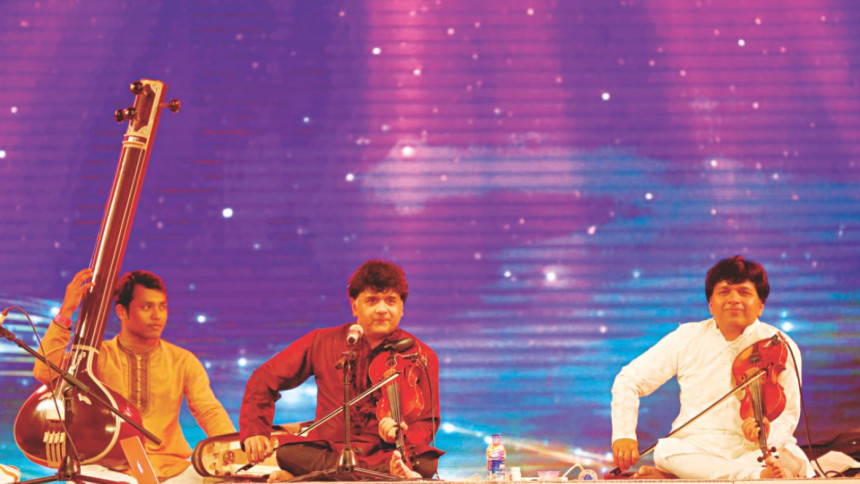 Appreciating the arrangement of the biggest classical music festival of its kind in the world, Ustad Hussain recited a piece evoking invitations to the music lovers that read: come, sit down, get drunk in music, enjoy and go back home. The legend played many such magical sounds including, the sounds of a coach, a stream engine with a whistle together; a picturesque diffusion of melodic rhythm of rain falling on different surfaces; the music of dark clouds, lightning and thunderbolt; topparan (falling of a canon); startling deer and the hunter; a tripalli gaut and the sound resembling the running of horses. 
The God of Santoor Pt. Shivkumar Sharma, as an ambassador of peace of North Indian Classical Music, performed Raga Jogkauns, an intermingle of two prominent Ragas --  Jog and Chandrakauns -- at the festival. With a soothing and meditative recital of alap, jod and jhala on his santoor, the pandit went beyond the sphere of words and made his melody speak to the divinity. Yogesh Samsi produced aesthetic rhythms on his tabla while accompanying Pt. Shivkumar Sharma's two compositions on Rupak taal and teentaal. The living legend styled a swindling chalan of the raga that was evocative of experiencing heavenly touch remaining in the earth. The maestro prominently played the teentaal bandish "Peer Parayi Janey Nehi Balamuwa".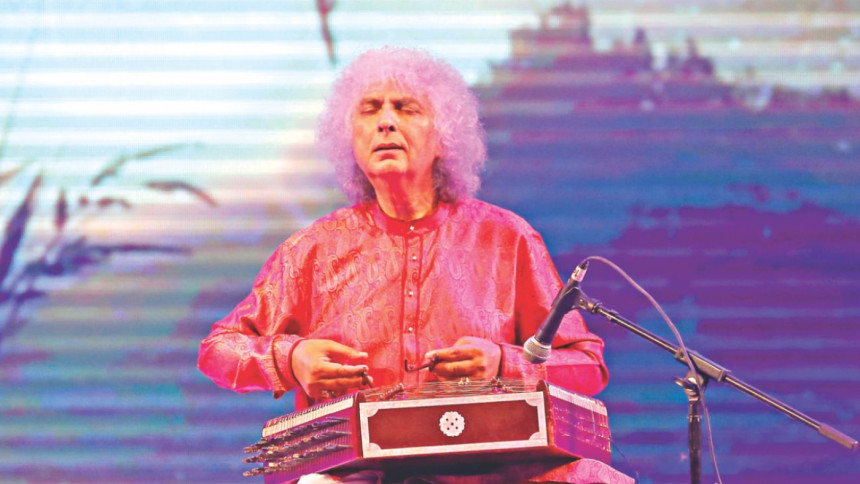 Pt. Tejendra Narayan Majumdar, an eminent sarod maestro of Maihar Gharana, diffused the sweetness of Raga Hemant in the late-autumnal night. Raga Hemant, created by Baba Ustad Allauddin Khan, is not only a raga but also a way of prayer for the Maihar Gharana musicians. Pt. Majumdar's artistic elaboration of melody in alap, jod and jhala part together with Pt. Subhankar Banerjee's divine tabla rhythms in the gaut, jhala and tehai part captivated the crowd. Tejendra Narayan Majumdar later played Raga Manjh Khamaj on Deepchandri (14-beat) and teentaal (16-beat). 
Carnatic violinist duo Ganesh and Kumaresh Rajagopalan along with the mridandam and the ghatam artistes set off a musical flight that was like the sparks of the spontaneous melodic rhythms set on a dynamic balance. Gripping the apt mood and melody of two Carnatic Ragams -- Malamawavagowla and Shree Ranjani, the troupe played a melodic game. Kumaresh later fashioned a heart-wrenching melody of Raga Bageshree while Ganesh styled a melancholic aura of Raga Shivranjani and the entire performance, exclusively in sawal-jawab style, took music lovers to the transcendental realm of ecstasy.     
Pt. Ulhas Kashalkar, as always, rendered a lesser-known Raga "Komal Rishabh Asavari at the festival. The show stopper for the day rendered first a vilambit bandish "Bamna Shagun Bicharo" on tiluara taal. The maestro's pristine pukar, stylish boltaan, akar taan and sweet meend mesmerised all. He wrapped up his part with presenting a khayal on Bhairav Bahar and a bandishi thumri on Bhairavi. Pt. Suresh Talwalkar accompanied the revered music maestro.            
Photo: Sheikh Mehedi Morshed