Strings of sarod from Bangladesh
Md. Yousuf Khan to perform at BCMF15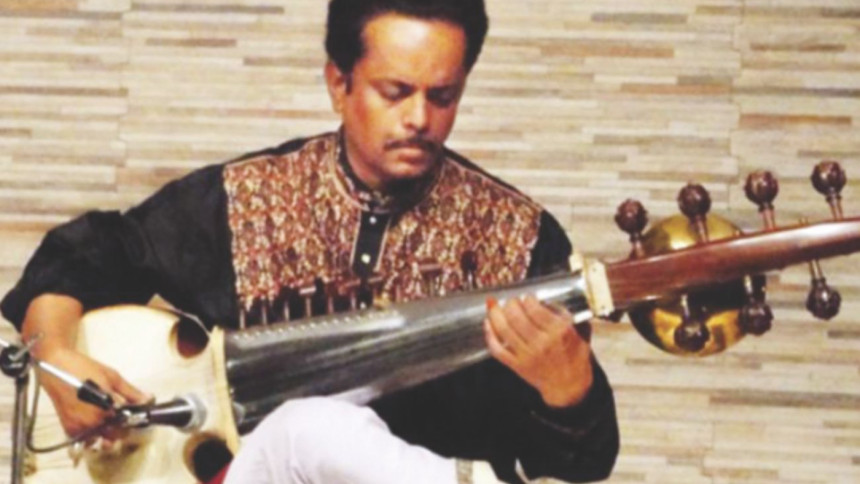 Md. Yousuf Khan, the lone professional sarod player in Bangladesh, is all fired to participate in the five-day Bengal Classical Music Festival 2015 (BCMF15) to be held from November 27. As he prepares to play "Kirwani", for a massive audience, the young man smilingly recalls his father, renowned Bangladeshi musician, Ustad Phuljuri Khan. Though it was his brother late Ustad Md. Yunus Khan who initiated him into the instrument, he learnt the ropes of playing the instrument professionally from his uncle Yasin Khan and later Ustad Khurshid Khan.
Yousuf Khan is presently a musical artiste at the Bangladesh Shilpakala Academy. He is a regular performer for Bangladesh Betar and Bangladesh Television. He is also associated with the Bangladeshi film industry.
Yousuf Khan's lineage goes down a long way. His father Ustad Phuljhuri Khan (born Yaar Rasul Khan), who hailed from Brahmanbaria district played tabla, pakhawaj, naal and other rhythmic instruments and esraj, taar sanai, sitar and more.   From his maternal side, Phuljhuri Khan is the grand-son of Ustad Ayet Ali Khan and noted Allauddin Khan, world reputed maestro of Senia-Maihar and Allauddin Gharana of Indian Classical Music. His mother was the eldest daughter of Fakir (Saint) Aftabuddin Khan, the elder brother of Ustad Allauddin Khan and Ustad Ayet Ali Khan.
Although loved by music aficionados, the sarod, a lute-like stringed Indian instrument used mainly in Indian classical music, is not at its peak as students are reluctant to put in the concentration and regimen it requires to master the fretless instrument, says Yousuf. Along with the sitar, it is among the most popular and prominent instruments in Indian classical music.
Yousuf Khan has been a part of several Bangladeshi cultural delegations to countries like India, Russia, Italy, China, Japan, South Korea, Thailand, Hong Kong, Turkey, Iraq, Jordan, Kenya and Zambia.