Meril-Prothom Alo awards the best in TV and film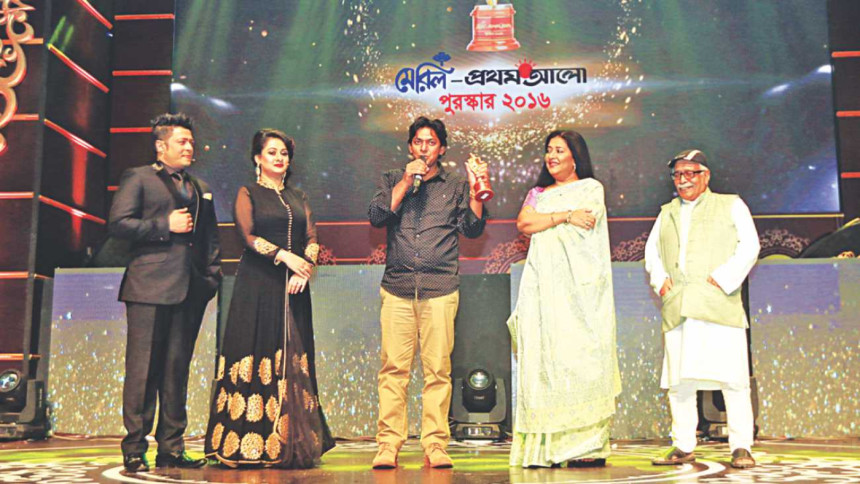 Meril-Prothom Alo awarded the best performers and productions on television and film in a star-studded grand programme on Friday at the capital's Bangabandhu International Conference Centre. 
Syed Hasan Imam was accorded the Lifetime Achievement Award at this year's ceremony. Attendees also stood up in a minute of silence as news broke of the passing of the legendary singer-composer Lucky Akhand. 
In the critics' choice awards, "Oggyatonama" won best film, while Amitabh Reza Chowdhury was named best director for "Aynabaji", while Chanchal Chowdhury picked up best actor for the same film. Sajhbati won best actress for "Shongkhochil". 
In the critics' choice for television, Sarwar Reza Jimmy won best screenwriter for "Jog Biyog", for which Afran Nisho also won best actor. Sagar Jahan won best director for "Madhobilata Groho Ar Na", and Aupee Karim took home best actress for the same play. 
In the popular choice awards which was voted by Prothom Alo readers, Shakib Khan won best actor (film) for "Shikari", Nabila won best actress (film) for "Aynabaji", Mosharraf Karim won best actor (TV) for "Bougiri" and Tisha won best actress (TV) for "Ekti Talgach-er Golpo". Bubli won best newcomer for "Bossgiri", and the song "Dil Dil Dil" from the film also won best singer awards for Kona and Imran. 
In her reaction, Bubli told The Daily Star: "I would give the audience all the credit for my award. If they did not like my work, I would not have continued work in the media." First time awardee Nabila also shared her excitement with The Daily Star, saying "It was a really special moment for me."
Mosharraf Karim, meanwhile told The Daily Star "Awards always increases your responsibilities, and this is no different. It drives me to do better work." 
Ferdous and Purnima hosted the programme that also featured a musical performance by Niaz Mahmud Chowdhury and dance performances by Aupee Karim, Mehzabien, Sarika, and dance troupes from Nrityanchal and Srishti Cultural Centre.