Curtain rises on Bangladesh Film Festival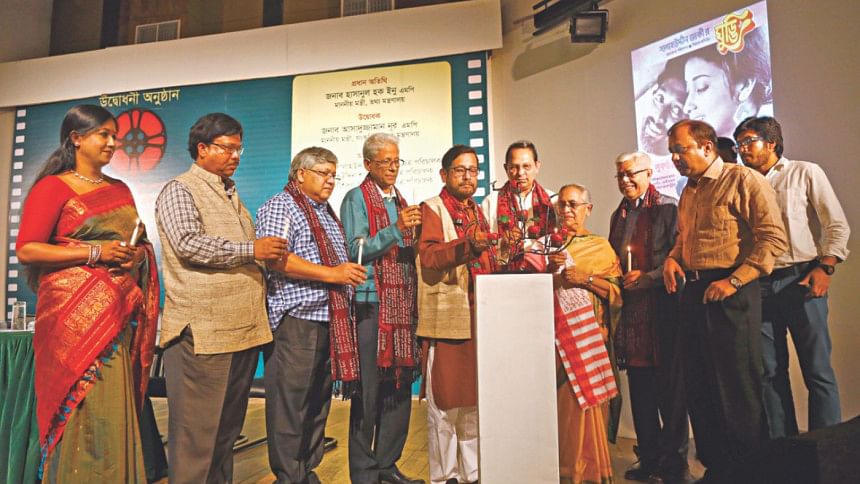 Bangladesh Film Festival, the biggest festival of Bangladeshi films began at Bangladesh Shilpakala Academy (BSA) on Thursday evening. 
The inauguration ceremony took place at the National Art Plaza auditorium of BSA amid festivity. 
Cultural Affairs Minister Asaduzzaman Noor inaugurated the festival, while Information Minister Hasanul Haq Inu attended the inauguration ceremony as chief guest. Director of Theatre and Film Department of BSA, Sara Ara Mahmud gave the welcome speech. BSA Director General Liaqat Ali Lucky, noted filmmakers Mosihuddin Shaker, Morshedul Islam and Syed Salahuddin Zaki were discussants at the event. 
The guests and discussants stressed on the importance of film as a powerful media to fight fanaticism. They expressed hope that scenario of Bangladeshi film industry will gradually improve, and the audience will return to movie theatres to see tasteful films.   
The festival opened with the screening of celebrated filmmaker Tareque Masud's "Mati'r Moyna". On Friday, master filmmaker Alamgir Kabir and Zahir Raihan's "Simana Periye" and "Kacher Deyal" were screened respectively at the festival. 
Bangladesh Film Festival features some of timeless classics, including Mosihuddin Shaker's "Surjo Dighol Bari", Goutam Ghose's "Padma Nodi'r Majhi", Subhash Dutta's "Sutorang", Abu Sayeed's "Kittonkhola", Alamgir Kabir's, Badal Rahman's "Emil'er Goyenda Bahini", and Abdullah Al Mamun's "Sareng Bou". In addition there are recently-made films like Prosun Rahman's "Sutopa'r Thikana", Morshedul Islam's "Amar Bondhu Rashed", Nasiruddin Yousuff's "Guerilla", Gazi Rakayet's "Mrittika Maya" and Tanvir Mokammel's "Lalon" to be screened.
The festival, running simultaneously at 64 district units of Shilpakala Academy, will conclude on December 24.