Betrayal of Innocence and Beauty
Pulak' first solo opens at New York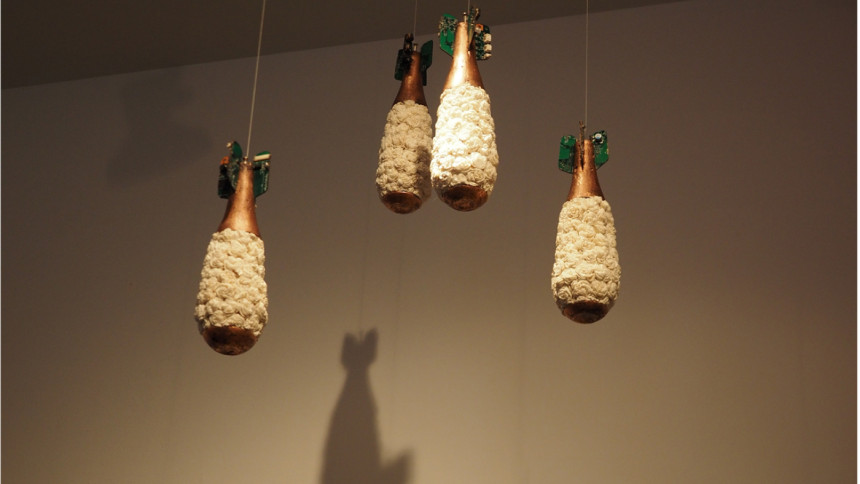 Aicon Gallery, New York has organised a monthlong (April 22-May 21) solo exhibition titled "Betrayal of Innocence and Beauty" by promising Bangladeshi artist Promotesh Das Pulak. This is Pulak's first solo exhibition in USA.
The show comprises two major series: his sculptural pieces composed of war equipment assembled by small flowers made of shola, usually used as a traditional craft material; and his iconographic interpretations of the 1971 War of Liberation titled "Echoed Moments in Time".
Through his works, the artist critically questions the current social and political scenario in his home country Bangladesh as well as vital global issues faced by humanity.
Pulak was born in 1980 in Bangladesh. He completed his MFA (Major in Drawing and Painting) in 2004 from the Faculty of Fine Art, University of Dhaka. The use of diverse material has played a pivotal role in his artistic practice. The juxtaposition between organic natural elements and combat equipment suggests a betrayal of innocence and beauty. The artist often incorporates other media such as painting, video, image manipulation, photography, and installation in his artistic pursuit.
Pulak represented his country at the 54th Venice Biennale in the Bangladeshi Pavilion along with a select group of artists. He was nominated as an emerging artist in the sculpture category at the Prudential Eye Awards in 2016.
The artist is also showcasing his sculpture series: works from his "Echoed Moments in Time" series which he displayed in the  54th Venice Biennale in 2011and a series of six drawings.
The artist currently lives and works in Dhaka.