"Birdman" soars above all at Oscars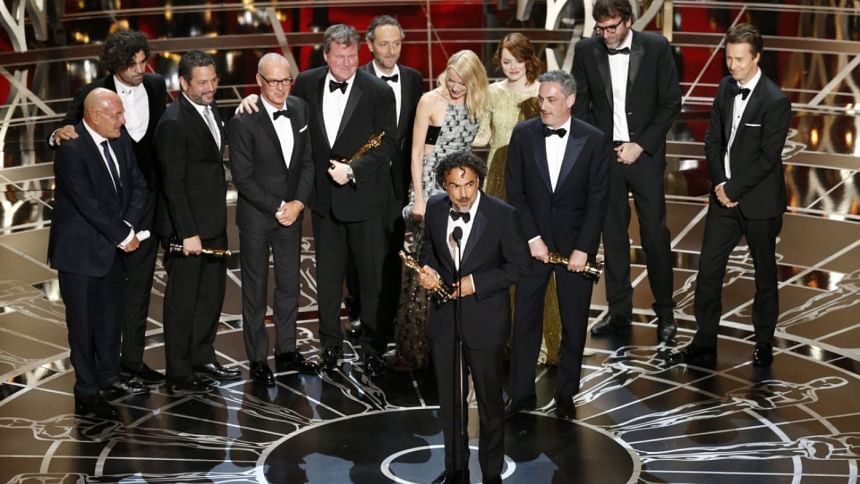 Alejandro González Iñárritu's dark comedy "Birdman" flew high at the Dolby Theatre in Hollywood, Los Angeles yesterday at the 87th Academy Awards, taking home Best Picture, Best Director, Best Original Screenplay and Best Cinematography. It clearly outshone Richard Lintlaer's coming-of-age film "Boyhood", which took just one prize out of six nominations –Patricia Arquette for Best Actress in a Supporting Role. Eddie Redmayne's portrayal of physicist Stephen Hawking in the biopic "The Theory of Everything" earned him Best Actor, while Julian Moore scored her first Oscar for playing an early-onset victim of Alzheimer's in "Still Alice", after four previous unsuccessful nods. JK Simmons expectedly picked up the Best Supporting Actor Oscar for "Whiplash", where he plays a strict jazz instructor. 
The ceremony began with host Neil Patrick Harris performing a catchy song-and-dance routine, featuring Jack Black and Anna Kendrick. Other performances of the night included "Everything is Awesome", the theme song from "The Lego Movie", Jennifer Hudson paying tribute to the In Memoriam segment remembering all the deceased artistes of the year (which surprisingly left out Joan Rivers), Maroon 5 performing "Lost Stars", Lady Gaga paying tribute to "The Sound of Music" on its 50th anniversary, and a touching performance of "Glory", the soundtrack from "Selma" by John Legend and Common, that later won Best Song.  
"Whiplash" won three awards in total, behind joint highest of "Birdman" and Wes Anderson's comedy "The Grand Budapest Hotel", which also won four Oscars, mostly in technical categories. Disney film "Big Hero 6" surprised many to pick up Best Animated Feature – ahead of the favourite "How To Train Your Dragon 2", while "Citizenfour", about Edward Snowden's exposure of the NSA's domestic surveillance, was awarded Best Documentary. Polish film "Ida" was recognized as the Best Foreign Language Film. 
Steve Carrell-Channing Tatum-Mark Ruffalo-starrer "Foxcatcher" was the most-nominated film (with five nods) to go home empty-handed, while "The Imitation Game" -- the biopic of World War II codebreaker Alan Turing starring Benedict Cumberbatch – took just one Oscar (Best Adapted Screenplay) despite eight nods. American Sniper joined "Boyhood" in the one-win-off-six-nods club, while there was little love for Christopher Nolan's "Interstellar", which only won for Best Visual Effects out of five nominations, equaling "The Theory of Everything".
Serious issues came up during the ceremony, though – often in acceptance speeches. Patricia Arquette made a moving statement on wage equality for women that had her co-nominee Meryl Streep stand up in an enthused cheer. Iñárritu hoped for a better government in his native Mexico and addressed immigration issues, John Legend and Common mentioned mass incarceration, "Citizenfour" director Laura Poitras extended his thanks to whistleblowers everywhere, while "Imitation Game" screenwriter Graham Moore said he tried to commit suicide when he was 16, adding "I would like for this moment to be for that kid out there who feels like she doesn't fit in anywhere. You do. Stay weird. Stay different, and then when it's your turn and you are standing on this stage please pass the same message along." Dana Perry, producer for "Crisis Hotline: Veterans Press 1" – which won Best Documentary: Short Subject – also said "We need to talk about suicide out loud", as she dedicated the award to her son who committed suicide at age 15 in 2005. 
The red carpet also made space for serious topics with the #AskHerMore hashtag – a call to reporters to ask celebrities questions beyond their outfits. 
Some of the lighter moments of the show came through Neil Patrick Harris walking on the stage only in his underwear in a tribute to Michael Keaton in "Birdman", while John Travolta was called on stage alongside Idina Menzel – whose name he mangled into 'Adele Dazeem' at last year's ceremony – to give the "Frozen" star a fair shot at a comeback, which she did in great spirit.