Debabrata Biswas' birth anniversary celebrations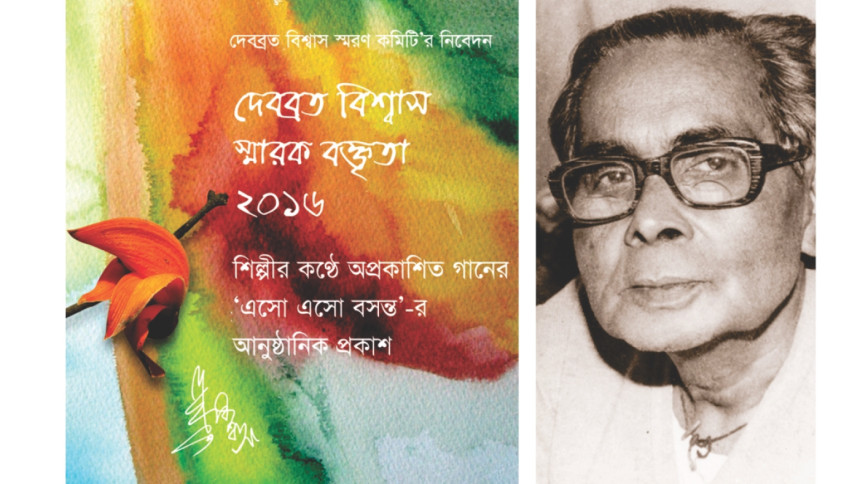 Debabrata Biswas Sharan Parishad, a Kolkata- based organisation dedicated to research, publicity, restoration and compilation of works by legendary singer Debabrata Biswas, is organising a memorial lecture by eminent researcher and writer Dr. Gulam Murshid in Kolkata on January 30, on the occasion of Debabrata Biswas's 105th birth anniversary.
Dr. Ghulam Murshid, a Bangladeshi-born UK resident and eminent writer, was closely associated with Biswas and gifted 60 unpublished Tagore songs sung by Debabrata Biswas from his personal collection. The songs will be released on this occasion under the title "Esho Boshonto". Dr. Chanchal Khan, a disciple of Debabra Biswas and a popular Bangladeshi Tagore singer, along with Prabuddha Raha and Rekha Chakravarti from Kolkata, will perform Tagore songs at the programme.
Biswas was born in 1911 in Barisal and later came to Kishoreganj of the-then undivided Bengal province of India, when King George V was visiting India for the Delhi Durbar. He was then nicknamed as George. He was popularly called George Biswas and George Da. His early gramophone recordings of Tagore songs brought out in the early 1940s are soulful expressions of melody with a distinct adherence to the rules and norms of tradition, written and unwritten, which he felt obliged to break in the early 1960s – considered by most to be his heyday up to the year 1969.
Biswas is the only singer who sang Rabindra Sangeet in Sanskrit, English, German, French, and Russian. He was equally adept in rendering Ganosangeet. He remains one of the towering personalities of the peak era of Indian People Theatre Association (IPTA).