Blurred Lines: Pharrell wins back $1m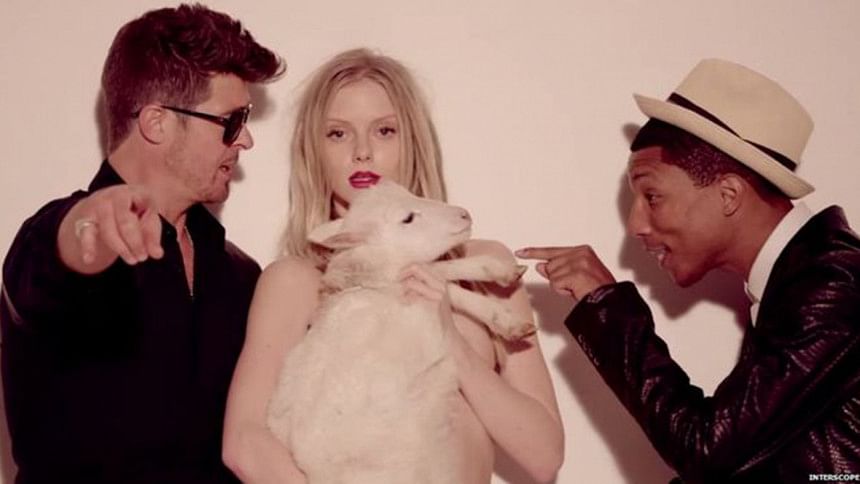 A judge has trimmed more than $1m (£639,000) from the damages Pharrell Williams was ordered to pay after the Blurred Lines copyright trial.
The case revolved around the question of whether Williams and his co-writer Robin Thicke had copied Marvin Gaye's 1977 hit Got To Give It Up.
In March, a jury ruled that they had, and awarded Gaye's family $7.3m in damages.
But US District Judge John A Kronstadt has now slashed that to $5.3m.
The cut comprises a reduction in actual damages from $4m to just under $3.2m, and a drop in the profits that Williams has to turn over from about $1.6 million to about $358,000.
The judge also gave Gaye's family a 50% cut of future earnings from the song, but rejected a request that would have temporarily blocked sales and performances of the track.
Kronstadt's ruling [published here] also refused a request by Thicke and Williams' lawyers for a new trial.
In March, jurors found that rapper TI, who received a songwriting credit and a share of the royalties for his verse on Blurred Lines, did not commit copyright infringement - but Kronstadt ruled that other elements of the jury's verdict mean he must be included in the judgment.
He also found that found that Interscope Records, Universal Music Group and Star Trak Entertainment were liable.
'Agree to disagree'
Gaye family lawyer Richard Busch said he was "thrilled" the court had affirmed the jury's decision on copyright infringement.
"As far as the reduction in damages, we are reviewing that, and the Court's analysis on that issue, and will be discussing internally our options," he added.
Williams' lawyer Howard King added: "While we certainly respect the diligence and care devoted by the court throughout these proceedings, we must agree to disagree on the conclusions."
"We look forward to exercising our further remedies and ultimately achieving clarity on the difference between inspiration and copyright infringement."
Nominated for record of the year at the 2013 Grammys, Blurred Lines was a number one on both sides of the Atlantic and one of the biggest-selling songs of the year.
Since its release, the track has earned nearly $16.5m (£10.5m) in profits, according to court documents, with Williams and Thicke making more than $5m each.
At the trial, Willliams contended that he was only trying to mimic the "feel" of Gaye's music and insisted he did not use elements of his idol's work.
Tuesday's ruling paves the way for the next phase of the showdown when Thicke and Williams are expected to take the dispute to an appeals court.