Qayyum Chowdhury's last signature work
Portraits of great personalities under spotlight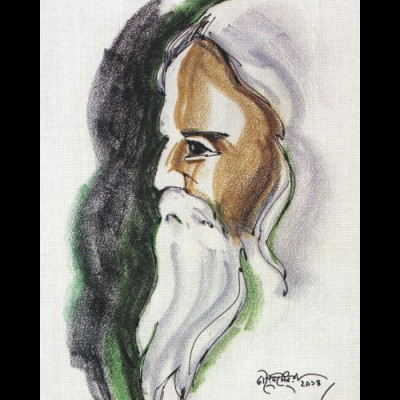 Indira Gandhi Cultural Centre (IGCC), Dhaka brought out an innovative table calendar for the year 2015, of which each month focuses on portraits of a great personality – from politicians, litterateurs, poets, artist, mystic bard, classical musician and religious and social reformers of both Bangladesh and India. 
Five renowned Bangladeshi artists – Qayyum Chowdhury, Samarjit Roy Chowdhury, Jamal Ahmed, Ranjit Das and Kamaluddin portrayed the portraits for the calendar.  
Celebrated artist Qayyum Chowdhury depicted visages of Bangabandhu Sheikh Mujibur Rahman and Nobel Laureate Poet Rabindranath Tagore on the calendar. The portrait of Tagore was the last signature work by late artist Qayyum Chowdhury, who breathed his last on November 30 at the Combined Military Hospital followed by a stroke on the stage of Bengal Classical Music Festival 2014. 
Artist Jamal Ahmed painted the portraits of Kazi Nazrul Islam, Shilpacharya Zainul Abedin and legendary classical musician Baba Ustad Allauddin Khan, while Kamaluddin painted former Indian Prime Minister Indira Gandhi, Michael Madhusudan Dutt and Poet Jibanananda Das. 
Ranjit Das' works of Swami Vivekananda, Ishwar Chandra Vidyasagar and Deshbandhu Chittaranjan Das have also been placed for the calendar. Eminent artist Samarjit Roy Chowdhury has also done a portrait of mystic bard Fakir Lalon Shah.