Excitement brews at Suhrawardy Udyan
Publishers gear up for Ekushey Boi Mela 2018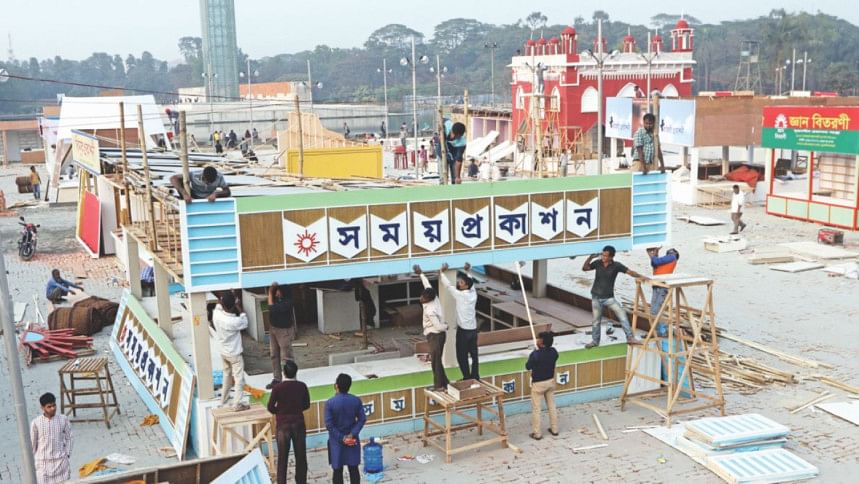 The grounds of Suhrawardy Udyan are already teeming with stalls stacking new books, as publishers gear up for the much anticipated Ekushey Boi Mela 2018. The month- long book fair is every Bangalee's favourite fixture and to this effect, organisers have decided to extend fair timings till 9 pm every day. On weekends, the fair will open to visitors at 10 am.
Preparations began a week ago following a lottery for stall setups. Organised by Bangla Academy, the annual event is expected to be larger than ever before, by boosting the number of pavilions. Nirapod Events oversee the interiors at the fair.
The Daily Star reached out to a number of enthusiastic publishers on site. "We eagerly await the Ekushey Boi Mela every year; the feeling of watching books being sold, and writers, publishers, and readers interacting on the same ground, is indescribable," said an enthused Shahadat Hossain, director of Bangladesh Gyaan O Srijonshil Prokashok Shamity.
Writer Emdadul Haque Milon stated, "I hope this year's Boi Mela outdoes the previous such events. Every year I look forward to this event with excitement."
Banglabazaar Publishers informed that a sheer number of books is expected to be seen from every single publishing house in the country. Like last year, 3,000 freshly published books are expected to be seen in stalls and pavilions this time. One publisher also added that despite the number of new books from promising and renowned writers, the late eminent writer Humayun Ahmed remains everyone's favourite, whose reprinted copies fly off the shelves and into the homes of readers.
Popular writer Anisul Haque stated that the annual book fair is integral to the culture of Bangladesh, witnessing the largest congregation of this country's citizens in a single space.
Around 460 publishers have taken part at this year's Ekushey Boi Mela, which is a dramatic increase from previous years. Twenty three pavilions are expected to be set up in Suhrawardy Udyan.
One of the main attractions of this year is the release of Mohammad Zafar Iqbal's new books, "Tobou Tuntuni Tobou Chotachcho", brought out by Pearl Publications; "Pratina" from Somoy Prakashon and "Cyclone" released from Tantralipi Prokash.
In addition to their many stalls  on Suhrawardy Udyan premises, Gyaan O Srijonshil Prokashok will also  have more offerings at Bangla Academy. There are more exciting experiences in store for locals in Dhaka and beyond, as Bangla Academy plans to uphold their tradition of organising cultural performances every evening from February 1.
The International Literary Conference will be held from February 22- 24.