3rd death anniv of Humayun Ahmed observed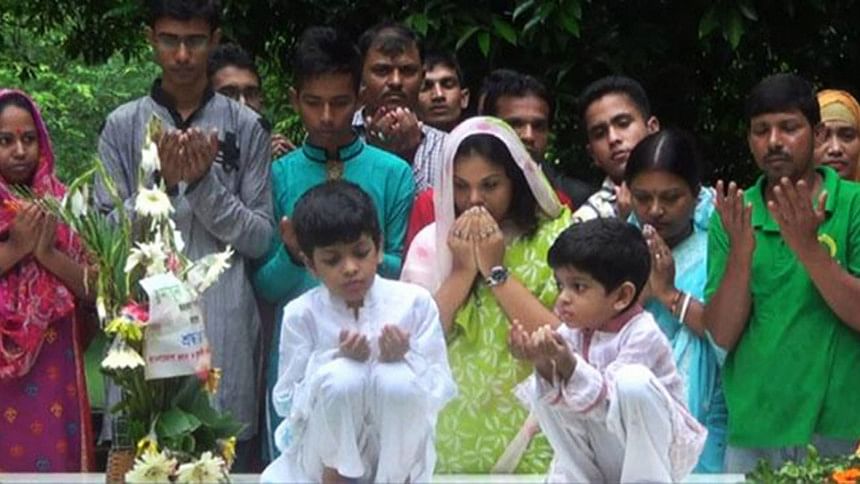 The third death anniversary of prolific author, dramatist, screenwriter, playwright and filmmaker Humayun Ahmed, who mesmerised his fans with his strong works for four decades, was observed today amid unabated downfall all the day.
Humayun's wife Meher Afroz Shawan and his two sons Nishad and Ninid, sister-in-law Senjuti and dramatist Chayanika Chowdhury placed wreaths at his grave at Nuhash Palli in Gazipur.
Family of the writer organised the holly Quran khwani and Doa mahfil marking the day.
Lots of fan and admirers also thronged at the Nuhash Palli ignoring the rain. Clad in yellow panjabi and blue sharee, lovers, especially youths, of 'Himu', a character create by Humayun, came to the Nuhash Palli to pay homage to their beloved writer. The youths also distributed leaflets inscribing cancer-consciousness-raising words as they don't want anybody like their favorite writer would die of cancer.
In the afternoon, Humayun's brothers Professor Muhammad Zafar Iqbal and cartoonist Ahsan Habib, sisters Sufia Haider, Mamtaz Shaheed and Roksana Ahmed and nephews and nieces offered Ziarat at the author's grave.
In Netrakona, the birthplace of Humayun, Shaheed Smriti Bidyapith, the writer founded educational institution, organised different programmes including black-badge wearing and brining out mourning procession.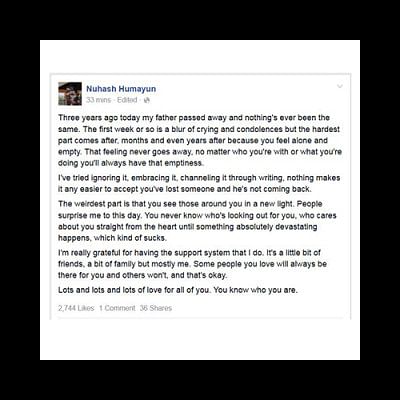 Headmaster of the institution Mohammad Asaduzzaman told BSS that the students, teachers and cultural personalities brought out a mourning procession at 3pm and placed wreaths at the portrait of Humayun Ahmed. Later, one minute-silence was observed. Quran khwani and a memorial meeting was also held there.
Humayun Ahmed was born on November 13, 1948 at Kutubpur village under Mohonganj than of Netrakona district. He studied chemistry at the Dhaka University and later became a professor of the same department there.
Humayun reached peak of his fame with the publication of his novel Nondito Noroke (In Blissful Hell) in 1972, which remains one of his most famous works, winning admiration from literary critics, including Dr Ahmed Sarif. He wrote over 200 fiction and non-fiction books, all of which were bestsellers in Bangladesh.
Humayun's writing style was characterized as magic realism. Sunil Gangopadhyay described him as the most popular writer in the Bengali language for a century and according to him, Ahmed was even more popular than Sarat Chandra Chattopadhyay. Ahmed's books have been the top sellers at the Ekushey Book Fair during the 1990s and 2000s.
Humayun created characters like Himu and Misir Ali, illustrated by eccentric, comic and compassionate features, who achieved unparalleled fame, especially among the youths. His first television drama was "Prothom Prohor" (first moment) in 1983, directed by Nawazesh Ali Khan. His first drama serial was Ei Shob Din Ratri (Tale of our daily lives).
Followed by the comedy series Bohubrihi, the historical drama series Ayomoy, and the urban drama series Kothao Keu Nei (There is no one in anywhere). The last one featured a fictional character of an idealistic gang leader named Baker Bhai, who was wrongly convicted and executed.
Humayun directed films based on his own stories. His first film, "Aguner Poroshmoni", based on the liberation war, won the National Film Award in total eight categories, including Best Picture and Best Director.
The theme of the Liberation War often came across in his stories, often drawing upon Ahmed's memories of that war and his father's execution during the war.
Humayun's film Shyamal Chhaya was based on the liberation war of 1971. he also wrote songs for few of his own films and plays. Some of the notables including Ami Aaj Bhejabo Chokh Somudrer Joley, Chadni Poshor Ratey and Amaaar Achey Jol.
His 2012 film Ghetuputra Kamola was selected as the Bangladeshi entry for the Best Foreign Language Oscar at the 85th Academy Awards, but it did not make the final shortlist.
His creations earned him a number of awards including the Bangla Academy Award and the Ekushey Padak.
In 2011, Humayun had been diagnosed with colorectal cancer. He died on July 19, 2012 at 11.20 PM BST at Bellevue Hospital in New York City. He was buried in the Nuhash Palli.