Keep children away from terrorism, militancy: PM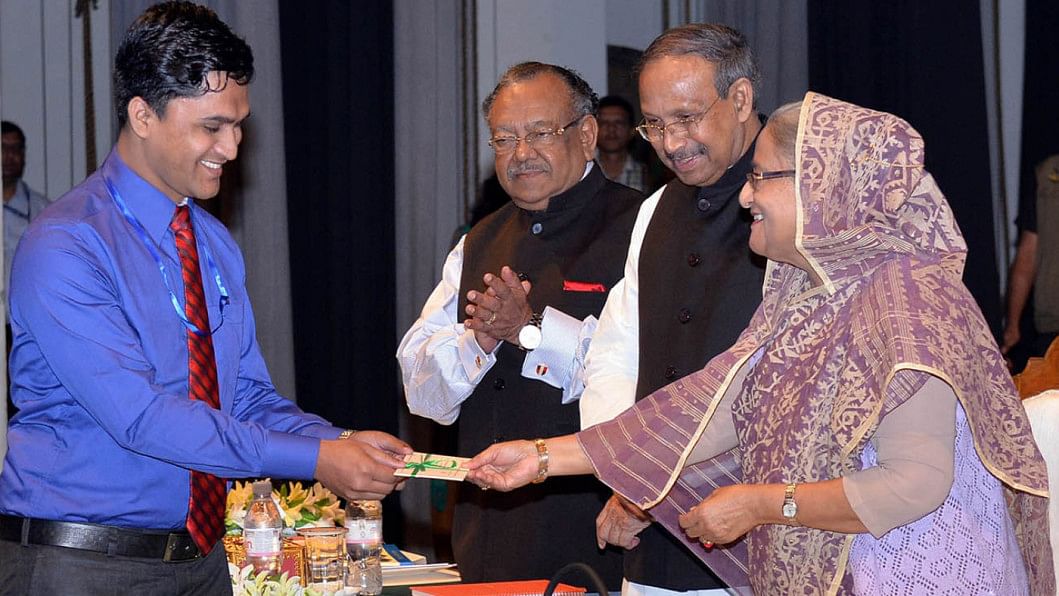 Reiterating that there will be no room for terrorism and militancy in Bangladesh, Prime Minister Sheikh Hasina today urged all again to remain alert so that students and children do not take the wrong path of terrorism, militancy and drug addiction.
"A new phenomenon of terrorism, militancy and drug addiction has emerged in the world..........it's my fervent call to people from all strata of life, including guardians and teachers, to create massive awareness so that students and children do not indulge in these menaces. I'll urge all to pay special attention to this," she said.
There'll be no room for terrorism and militancy in Bangladesh and we're taking right steps in this regard: Sheikh Hasina
She also said if awareness could be raised, the country will surely be freed from terrorism and militancy. "Besides, our government is very firm in this regard. There'll be no room for terrorism and militancy in Bangladesh and we're taking right steps in this regard."
The Prime Minister was distributing cheques of special donation among the scientists and researchers of various universities, organisations and agencies under the Bangabandhu Fellowship and National Science and Technology (NST) Fellowship at the Osmani Memorial Auditorium in Dhaka.
Noting that the country's students and children are meritorious and talented enough and they are keeping their sign of talents not only in the country, but also in the world, Hasina also called upon the teachers and guardians to be more careful about their academic activities.
Mentioning that her government is pledged-bound to extend all-out cooperation to science-based research, the Prime Minister also suggested that the researchers attentively devote themselves to their work so that they can deliver good results to the nation. "We've certain plans to extend more support to the researchers and we'll definitely continue to do that."
She also called upon the students to spontaneously come forward in the science-based education to meet the growing demand of scientists, technologists and manpower in various sectors and reach the country to its desired target of development.
Taking about the Rooppur Nuclear Power Plant in Pabna, Hasina said the country is about to step into the nuclear era and a huge number of scientists and technology experts will be required in this field to conduct the future operations of the plant. "Students to be studying in the nuclear field will have to take the responsibility of operating such a plant," she said, adding that the government will take necessary initiatives to ensure proper training for them.
She also observed that Bangladesh will be able to move ahead in the global arena keeping its head high and thus turn into 'Sonar Bangla' as dreamt by Father of the Nation Bangabandhu Sheikh Mujibur Rahman if the resources, although limited, could be utilised in a planned and scientific way.
She elaborated her government's efforts towards setting up different kinds of universities under public initiatives, including science and technology, medical, agricultural and other subject-wise specialised universities.
Stressing the need for marine research following the gain of vast maritime areas from India and Myanmar, the Prime Minister said her government has already established Marine Research Institute while a sea aquarium will be built to carry out research activities and know what there are in the sea.
About the Bangabandhu Fellowship on Science and ICT project, she said it has been undertaken in the memory of the greatest Bangalee of all time Bangabandhu Sheikh Mujibur Rahman to build a science-based educated nation, develop digital Bangladesh and further advance scientific research in the country.
She mentioned that under the project, a total of 50 researchers have been selected for the fellowship to do MS and 60 for PhD programmes in foreign countries while 100 more for doing PhD and 11 for Post Doctoral programmes at home.
Hasina said apart from the Bangabandhu Fellowship, National Science and Technology Fellowship is being provided among researchers by the Science and Technology Ministry to do MS, MPhill, PhD and Post Doctoral courses to develop research works and flourish the country's science and technology sector.
In the current fiscal year, some 1702 teachers, students and researchers are being provided with Tk 99,117,000 under the Bangabandhu Fellowship, NST Fellowship and special donation.
Earlier, the Prime Minister distributed Bangabandhu Fellowship to two recipients, NST fellowship to four and cheques of Research Grant among four recipients.
Chairman of the Parliamentary Standing Committee on Science and Technology Ministry Dr AFM Ruhal Haque also spoke at the programme chaired by Science and Technology Minister Architect Yeafesh Osman. The ministry organised the function.