600 fortune seekers rescued
600 fortune seekers rescued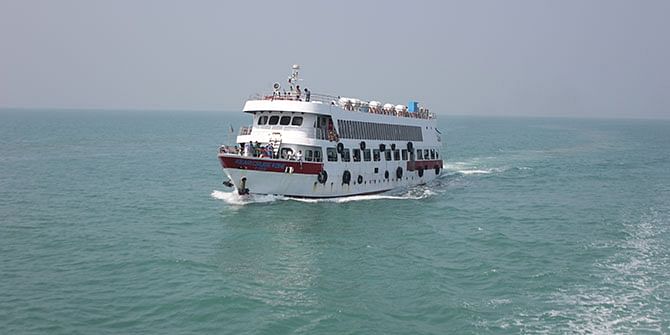 From a large trawler adrift in the Bay of Bengal, Bangladesh Navy today rescued over 600 overseas job seekers, believed to have been lured by human traffickers into a sea voyage to Malaysia, according to the navy.
Acting on a tip-off, navy ship Durjoy intercepted the trawler 50 nautical miles southeast of St Martin's Island around 2:30pm, said Lt Commander Mostafa Kamal, who is in charge of the island's naval base and was on board Durjoy.
The 600, including 20 women and children, were of Bangladesh and Myanmar nationalities, Lt Commander Kamal said.
Identities of the rescued could not be known immediately.
The navy also detained 14 crew members of the wooden boat that was carrying the Myanmar flag.
"We expect to reach the shore in the early morning tomorrow [Tuesday] and the rescued will be handed over to Teknaf police so that they could be sent home," said Lt Commander Kamal.
This appears to be the largest number of people rescued from the hands of traffickers in the Bay.
As many as 313 fortune seekers were rescued from another boat far away from the St Martin Island by the navy in June this year.
During a raid in houses on the island, 220 people were rescued by police earlier this year.  
There have also been reports that traffickers kidnap people and put them on Malaysia-bound boats. Teknaf police rescued two school-going kids last Saturday.
The fortune seekers are often held captive in Thai jungles and are released only after their families pay a ransom between Tk 2 lakh and Tk 2.5 lakh.
It takes about a week to reach Thailand from Bangladesh coast, according to victims rescued earlier. After the ransom is paid, the victims cross into Malaysia from Thailand on foot.
Cases filed with several coastal police stations suggest that there are over one hundred brokers and traffickers active in about 40 spots along the Cox's Bazar coast.
Reports run by the international media, including The Guardian and Reuters, revealed last year that the trafficking increased following religious persecution of minority Muslim Rohingyas in Myanmar.
Cramped in the holds of the boats, the victims hardly receive any food during their journey to Thailand, the reports said.