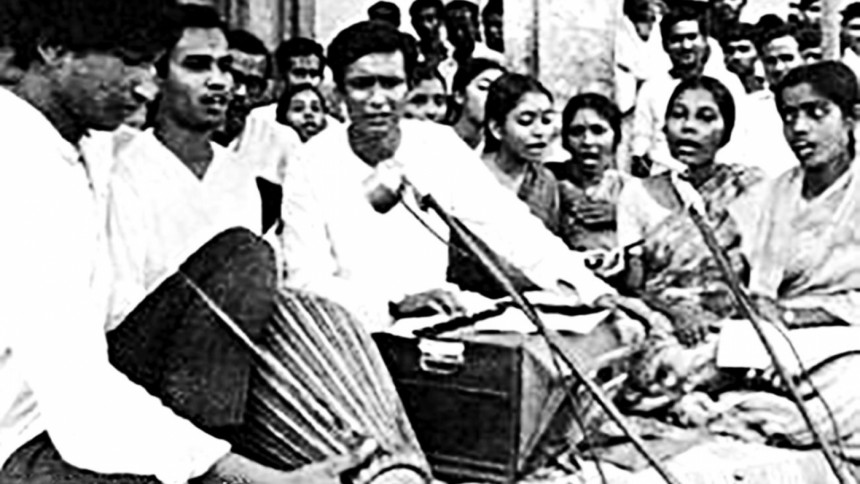 In 1971, it was indeed a proud day for many a Bangladeshi when independence was announced. Everyone seemed to welcome the beginning of the Liberation War. Heroes from back then had stories to share and many of these stories are repeated for generations, lest they are forgotten.
There were also many heroines who had stories to tell, young women, like Nasreen Rab Ruba, a teenager who found herself in the Sylhet border, training with rifles and grenades and also nursing the injured back to health. Who can forget the valour of the recently deceased Taramon Bibi, Bir Protik? In the guise of a mentally challenged woman, she would observe the positions of the Pakistani army in Kurigram and pass information to freedom fighters. A war veteran and recipient of the award for gallantry Bir Protik, she also took up arms and took part in several battles against the Pakistani forces.
Many such heroines were also inspired to lead the way through their music, live performances and radio broadcasts. "Not only did we sing the tunes of victory, many of us also took basic training to fight the enemy," says Manjushree Niyogi, a Swadhin Bangla Betar Kendra singer, who is now in her 60s. Reminiscing the months of the war back in 1971, Manjushree says that her family had eventually crossed the border from Meghalaya for shelter. "We lived in Sherpur," she said. "My father would encourage young people to get their training at our place. Back then many of us were part of the Swadhin Bangla Betar Kenrdra and also other organisations which used art, music and street theatre to inspire others to fight. Surprisingly, many women, who were part of these associations, would also participate in the training sessions. We were taught how to handle grenades, fire rifles and much more."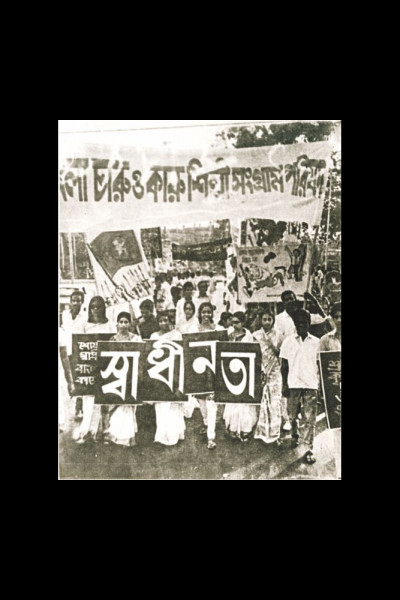 The historic speech by Bangabandhu Sheikh Mujibur Rahman on March 7 changed the lives of many, inspiring people from all walks of life to resist the Pakistani occupation forces in whatever way they could. While many took up arms and hand grenades, others sang and performed live or on the local radio station to keep up the spirits of the distraught people. One such example is the charompotro, a very popular form of entertainment on the radio that everyone would listen to. And another such documentation is the docu-film by Tareque Masud, Muktir Gaan, where a cultural troupe, named Bangladesh Mukti Shangrami Shilpi Shangstha would travel to refugee camps and different areas in Mukta Anchal, performing patriotic songs. They would also arrange puppet shows and stage dramas to inspire the freedom fighters and people with the spirit of war.
According to Lubna Marium, one of the singers and protagonists in the documentary Muktir Gaan, young artists and change-makers back in the time of the Liberation War were simply concerned about establishing independence. Some fought by taking up arms, others fought with music and words. And in no way were the women left behind when it came to leaving their homes, taking charge of teams or moving from one place to another preaching freedom and love. "When there is a popular movement ongoing, then everyone, very easily joins hands," she says. "Barriers of gender, religion, and economic disparity become subservient to the 'cause'.  The vibrant cultural movement from 1952 to 1971, had an explicit political goal of achieving Bengali unity, by prioritising all that was Bengali. So, it embraced value systems beyond boundaries of caste, creed and religion, as long as it was Bengali. The cultural movement and political movement together re-constructed value systems. As far as was possible in that age, women were equal participants. Please recall the two most popular student political parties—one was the Menon Group (Chinese Left Wing) and Motia (Russian Left Wing)."
Lubna Marium talks about Matia Chowdhury, the Member of Parliament and how she played a huge role during the Liberation War more than 40 years ago. "Matia Apa was a wonderful singer!" she says. "Even though the situation today has changed drastically, Matia Apa's role pre-1971 remains part of history. She was a firebrand!"Maqsoodul Haque, famous lyricist, writer and singer, from Maqsood O' dHAKA, remembers how as a 13-year-old, he went through the horrors of war. "My experience was no different from those that survived the period of infamy and terror," he says."I have witnessed firsthand the horrors of war, of my neighbours and relatives being killed, of my neighbours' daughters being thrown into Army trucks and taken away, their horrifying screams while we just stood aside as mute spectators unable to help or rescue them." To date, he remains traumatised. Many of his songs speak of such expressions, of democracy, of ethics and also the joddhas who fought for independence. He also says that by a joddha he does not refer to only the men-folk, as traditionally thought to fight back the enemy, but also the women who broke barriers to be a part of the battle.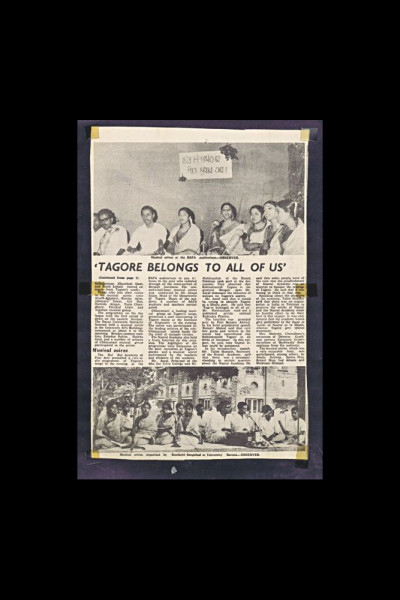 "Back in 1971 our society was conservative, but not as ultra-conservative as it is today," he says."We never had such a thing called 'gender bias' and other than frontal guerrilla combat which many women pitched themselves into, especially in hit-and-run operations in suburban areas, they volunteered as nurses, collected money for the war cause and provided vital intelligence and logistics to the freedom fighters. If one revisits late Tareq Masud's Muktir Gaan, you will get a vivid testimony of how women and girls went to the front and liberated areas to imbibe the fighting spirit among our people."
Haque speaks of a famous female actor, who he would rather not name, and how she showcased her love for Bangladesh. "The most enduring image of 1971 which I cherish so much is when the said actor, who was taken for dead, appeared in Bombay tinsel town together in company of the famous filmmaker—the late IS Johar," he says. "What shocked, surprised and captivated everybody is she appeared on stage in full glare of the media, without any makeup, with an ordinary cotton sari, barefooted without a petticoat and surprisingly without a blouse. She made the statement that this is exactly how poor ordinary women in Bangladesh dress up daily and are daily victims of brutality and rape, and that she represented them. It seems that during the entire duration of the war, whenever she appeared in public, she would wear the same attire. In 1971 she was the most celebrated actor in Dhaka and her action led to a lot of support for our Liberation War."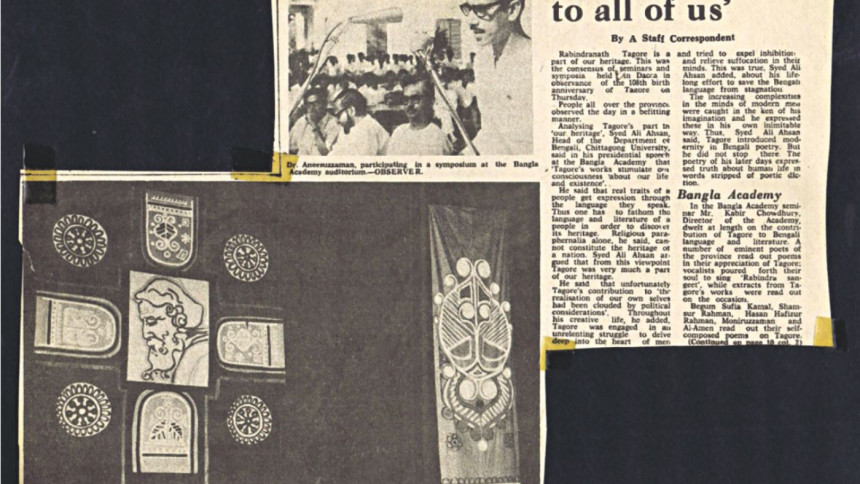 Freedom fighter Nasreen Rab Ruba, remembers how she was overwhelmed with emotions when she heard patriotic songs back in 1971. "I was crying and listening to the songs and watching other freedom fighters singing along around me," she remembers. "We had finally achieved what we were fighting for!" She could hear everyone screaming around her, "We are free! Bangladesh!"
"I, along with others, got very emotional and wept!" she recounts.
To the Swadhin Bangla Betar Kendra singers, everything seems like a dream now. Forty-eight years ago, the women warriors became part of a historical group, which fought the war and brought independence to Bangladesh. Clearly, the role of the female artists back in 1971, and their contribution to inspiring the people to display strength were invaluable. According to Haque, BTV and Betar were overtaken by pro-independence rebel artists and musicians, signifying the commencement to our collective cultural revulsion towards Pakistan, many of who were women. These rebels trained to fire guns and comprehend the power and effectiveness of the peaceful weapon fired from the human soul.
Elita Karim is Editor Arts and Entertainment and Star Youth of The Daily Star.