'Meet the Influencer: Season 1' held in Dhaka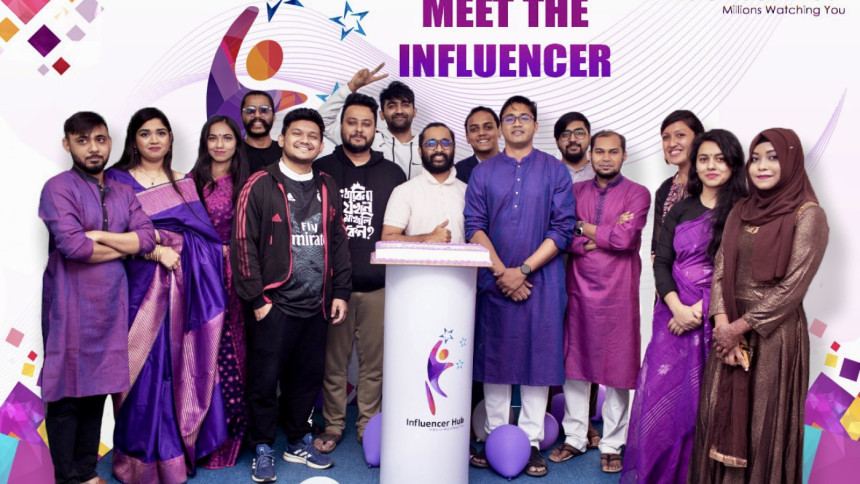 "Meet the Influencer" was recently organised by the agency, Influencer Hub, with the country's best content creators, stars, and media personalities, including Khaiyam Sanu Sandhi, Dana, Rafayat Rakib, Morshed Mishu, Raj, Neyon, Rehaan Rasool, Syed Nafis, RJ Nitul, Faiza, Bipro, and many others.
The domestic platform Influencer Hub aims to ensure the provision of influencer marketing solutions. They are currently working to bring brands to their specific campaigns and service-oriented target groups. They have already worked with more than 20 leading companies.
Telling the story of the journey of Influencer Hub, Jamshed-ul-Islam, Managing Director of Influencer Hub, said, "Audience is easily attracted as the branding is done through story- based content of influencer marketing. The relationship between Influencer Hub and influencers is to associate influencers with brands. That being said, we are an ideal matchmaker for influencers and brands, where both brands and influencers will be benefited. We are fortunate to have a number of good content creators and influencers in Bangladesh, through whose content the people of the country can learn many positive and useful things besides entertainment. We're focusing on the best quality content. About 500 content creators and 1,000 influencers have already officially joined our organisation from different parts of the country."
Manzoor Morshed Lincoln, director of Influencer Hub shared the  future plans of the company. "We are already successfully providing influencer marketing solutions to the country's leading brands. Although the influencer marketing industry was present in the market of Bangladesh before the pandemic, the demand for it multiplied during the lockdowns," he said. "We want good content from influencers. All those who are currently involved in influencer marketing are working hard to make this industry stand together but there is no end to expectations. We want to improve the quality of content so that we can compete with content creators worldwide."
All the guests conveyed their love and best wishes to Influencer Hub through a video message. There was also a cake-cutting ceremony. 
Towards the end, crests and environment friendly plants were presented to the influencers as a token of gratitude for their support and sincere cooperation along the way. Khayyam Sanu Sandhi, Nafis, and Rehan performed at the programme.