Advocating social awareness through Youth Parliament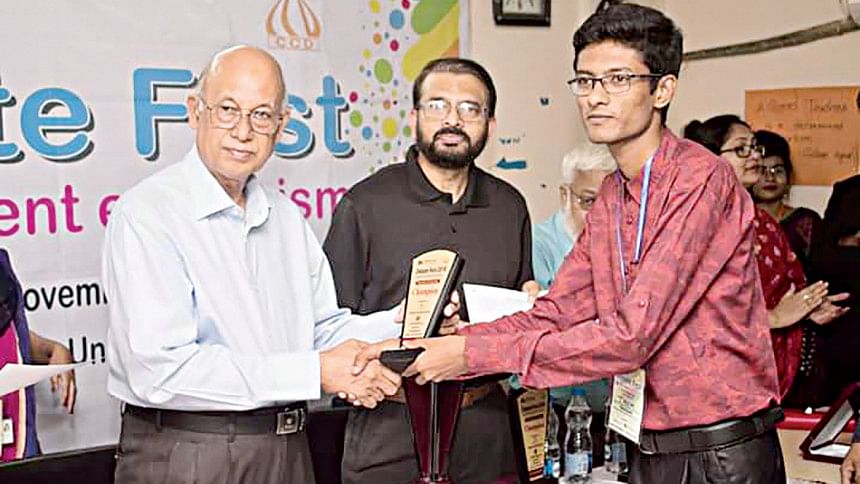 22-year-old Sarkar Tanvir Ahmed Tanim, the founder and acting president of Youth Parliament, is one of the nineteen changemakers from Bangladesh who received the 2021 Diana Award. He went to K&G High School, and passed his SSC in 2013 from R B Govt High School in Joypurhut. Being a student of Business Studies in school and college, he pursued Economics at Varendra University in Rajshahi. Marking International Youth Day, he joined a summit organised by World Youth Summit for Peace on August 12, 2021.
Tanvir's journey with Youth Parliament started in 2018. "I was heartbroken after the Holey Artisan Café attack in 2016," he mentions. "The event brought about pressures for many students of private colleges and universities. Ever since then, I wanted to do something to assist the youth of the nation. Working with young people, Youth Parliament found many scopes for improvement in regards to SDG-2 (Zero Hunger), and SDG-13 (Climate Change)." Youth Parliament publishes a magazine with their documented information and possible solutions, yearly.
Currently, the platform is working with SDG-16, which promotes justice, peace, and strong institutions. "We facilitate seminars, workshops, and training sessions for the youth," shares Tanvir.
Every year, Youth Parliament conducts sessions about the uses of our national flag, the nation's constitution, and drug addiction, among other topics. They also provide winter clothes to underprivileged communities, and engage the youth in tree-planting campaigns. Additionally, they host an annual assembly to discuss matters which should be brought under the national assembly's attention.
"I received the Central Khalaghor Asor Award from the President of Bangladesh, Abdul Hamid," says Tanvir. "Another memorable event of my life was when I received the National Award from the President for working with the youth."
He holds different positions in notable international organisations such as World Humanity Commission, British Council, Humanist ECO-Citizens International, and International Youth Society amongst others, representing Bangladesh. He has received multiple trainings on leadership and youth engagement in social welfare.
In 2019, Tanvir received the National Tree Plantation Award. The same year, he also got the official pass from the Office of the United Nations High Commissioner for Human Rights. However, due to the pandemic, he attended the programme virtually. "It is my dream to have Youth Parliament's voice heard in the national assembly," he concludes.
The author is a freelance journalist. Email: [email protected]