On a mission to build an enlightened society
A youth in Kurigram has been reaching out to readers for 18 years to build a knowledge-based society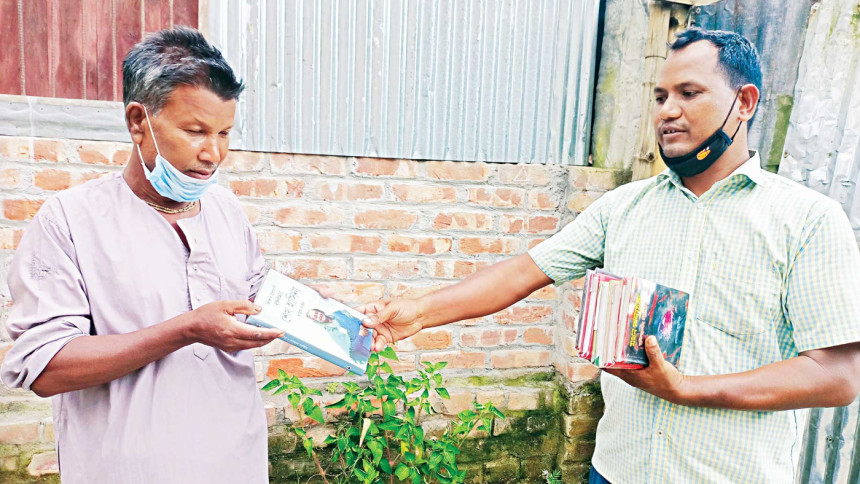 "For the last 18 years, there has been not a single day when I have not reached out to my readers with books. I am on a journey to build a knowledge-based society," says Bikash Chandra Roy Tarun.
When the thirty-eight-year-old was a BA first-year student, he established 'Taruner Abhijan Pathagar' at Baidder Bazar, a remote village of Chhinai union in Rajarhat upazila of Kurigram back in 2003.
Tarun, son of late Birendra Nath Roy of the village, is an artist and runs a press for a living. He is a voracious reader and encourages others to read books and since the founding of the library, he has been on a mission to spread the joy of reading among others.
His library currently has more than three thousand books. He has donated two decimals of land and built the library there.
Bikash Chandra Roy Tarun has set up a reader's corner at various hairdressing salons in Rajarhat upazila. Bookshelves have been set up in the salons. For the past six months, he has been providing books to the salons regularly. People, who come to the salons get a shave or get their hair cut, read the books during the waiting period.
Tarun said that the readers were reluctant to come to the library during the Covid-19 pandemic.
"I started reaching out to my readers as I didn't want that their reading habit to wear out," he said adding that he has been supplying books to the salons regularly.
"I am on a mission to build an enlightened and knowledge-based society through reading books."
Sudhanshu Chandra Shil, owner of Swapna Hairdresser in Rajarhat town, said he and his clients are benefiting from the reader's corner.
"My clients used to spend their waiting period smoking cigarettes but now they read books," Sudhanshu said.
Bithi Rani Roy, a college student from Baidder Bazar village, said that they have been getting books at their homes even amid the pandemic.
"The campaign of Tarun Roy is immensely benefitting the educated people of the village to enrich their knowledge," she added.
Rajendra Nath Roy, a local schoolteacher, said that they were happy getting books to read at home.
"I highly appreciate the noble intention of Tarun to build a knowledge-based through reading habit," he also said.
Nigmananda Roy, general secretary of 'Taruner Abhijan Pathagar', said that due to financial constraints, the infrastructure development work of the library has come to a standstill.
They cherish the dream to build the library as a model, he said.
Tarun said that he has been spending a portion of his income on the library and he will do this until he dies.
"I firmly believe that everyone in the village will be involved in my book reading campaign and play a role in building an enlightened society," he further said.