The Daily Star launches newspaper reading contest 'Find the Headline' powered by HungryNaki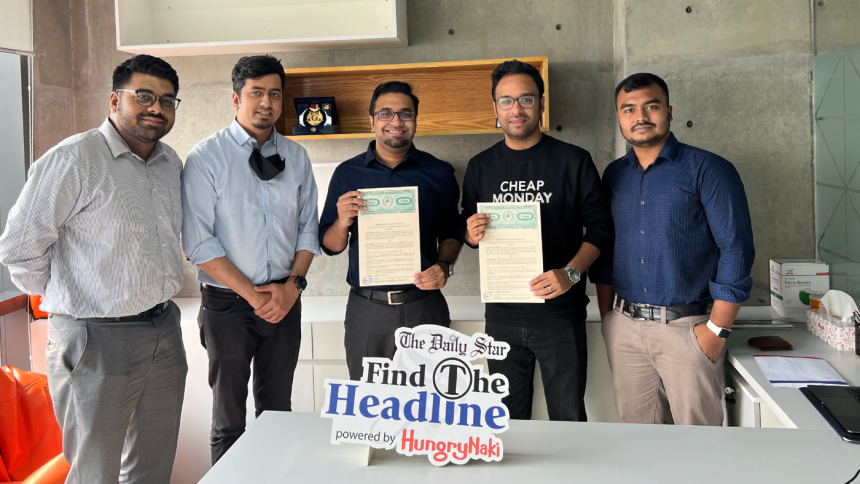 Prepare to pile up on newspapers and enrich your reading habit, since The Daily Star is launching an upcoming movement to reward readers and encourage non-readers while indulging in one's love for food. It is an exclusive opportunity for 15 fortunate winners to trade knowledge in return for prime dining every week from Hungrynaki, and is set to begin from 1st December 2021.
November 25th marks the MOU signing ceremony in response to this occasion, between AHM Hasinul Quddus, Chief Corporate Affairs Officer of Daraz Bangladesh Limited, and Shuvashish Roy, Head of business of The Daily Star at Dhaka in presence of Shahriar Mahmud Rizvi, Digital Marketing Manager; Mashrur Hassan Mim, Chief Marketing Officer of HungryNaki, a concern of Daraz (Alibaba Group).
With The Daily Star's commitment to serve the people of Bangladesh, this movement is dedicated to rewarding average newspaper readers and encouraging non-readers amid the post-pandemic circumstances,  as things are settling down. Businesses and organisations are adapting quickly and slowly,  achieving fully functional status. Information  has become very crucial. Next thing you know, one headline changes your life. Thus, The Daily Star wants to present the community with the opportunity to enhance their knowledge and arm themselves with information, the most effective weapon of the twenty-first century.
"Find The Headline", powered by Hungrynaki, is a three-month-long weekly contest organised for the readers, where participants will be tasked to find one random specific headline from The Daily Star newspaper print, meanwhile indulging themselves with the help of the recently popular online food trend in exchange.
 
Contenders of this compelling activity simply need to register online with a cell phone number and compete once per week within the provided deadline to win a food coupon of BDT 1000 from Hungrynaki. Weekly, 15 winners will be selected by a jury panel consisting of members from both The Daily Star and HungryNaki; among all valid entries received based on the most unique, informative, creative message and picture, the winners will be announced every Sunday of the contest week on the Facebook page of The Daily Star and HungryNaki.
To win, contestants just have to snap a picture of themselves with the correct headline proceeding with a submission to an online portal with a summary of the article in 200 words. Along with this, they need to share the picture publicly from the website gallery, including the hashtags #findtheheadline, #thedailystar, in their respective Facebook account.
It is to be remarked that the participants are obligated to submit untampered high definition clear photos comprising of unobscured and unhampered newspaper print. In addition, no individual from the involved organisations of the competition can participate as a contestant; the organisers reserve every right to change, modify or withdraw any contenders from this competition.
 Moreover, each participant will be obliged to abide by the rules of the organiser, and attempts to take advantage of any sort of communication or any other means in this regard will not be encouraged. This campaign is set to begin from 1st December and run till 28th February 2022. Click the link to contend and to enlighten yourself with further details: https://findtheheadline.thedailystar.net/#rules