Health disparities of transgender youth: Still left in the lurch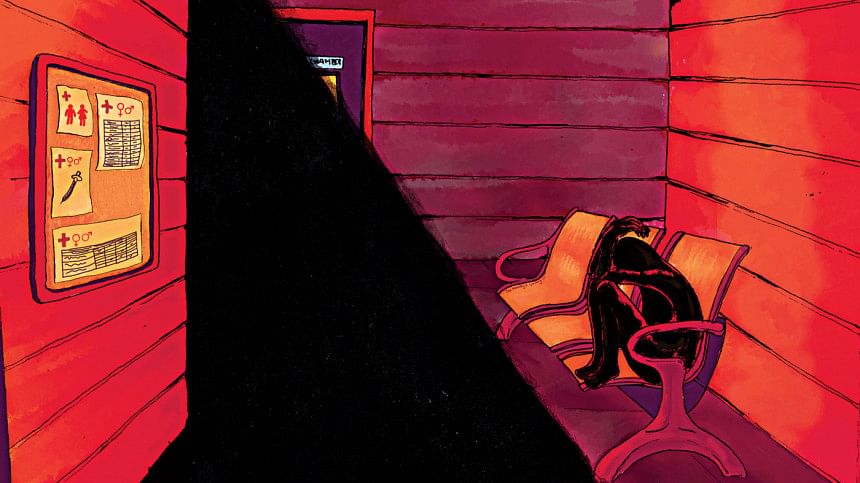 30-year-old Mugdha* a transgender woman of Rajshahi, still depends on traditional healers or dispensaries when she feels unwell, considering the disparities she faces at hospitals.
Once when she went to Rajshahi Medical College with a urinary tract infection, she was mistreated so badly that she felt like she had no right to medical treatment.
"Since there's no separate queue for transgender people like me, I stood in the female queue to buy a ticket, as I identify myself as female. However, other women in the queue were scared of me," she said. "When I stood in the queue for males, the men were taunting me. The doctor was visibly agitated to have a transgender patient like me. She hurriedly wrote down a prescription, and threw it at me, without looking at me, or listening to any of my problems."
When Mugdha asked the doctor's assistant for help, he harassed her by asking her inappropriate questions about her gender and sexuality.
The situation is similar in the capital. When Bijli Chowdhury*, a transgender youth volunteer, went to Shaheed Suhrawardy Medical College for dengue fever tests, she was also asked irrelevant questions by the staff, and blamed for roaming around the roads and parks.
According to a 2019 survey by Bandhu Social Welfare Society, 90 percent of transgender people face mental and sexual harassment when they go to seek health services. 88 percent of them said that sexual and reproductive health needs are not often addressed for them.
In addition, 82 percent of them said hospital authorities do not allow them in women's wards, since women do not feel comfortable in their presence, while in men's wards, they face sexual harassment. 73 percent of them said they do not have access to public health services.
Although transgender people can access reproductive healthcare services from 128 drop-in-centres run by the National AIDS/STI Programme (NASP) under Directorate General of Health Services (DGHS), data showed that only 39.8 percent of them fall under the coverage of different services by the programme.
According to government data, Bangladesh has about 11,000 hijras, as transgender people are known in South Asia, even though, other estimates put the number at more than 50,000.
"In advocacy meetings with government bodies, we are told that the government facilities are bound to provide services to all, regardless of gender. But the reality is often disappointing. Staffers in hospitals are yet to be sensitised in treating transgender people due to lack of proper orientations," noted Dr Mashiur Rahman, Advocacy Manager of Bandhu Social Welfare Society. 
Appropriate infrastructure, including separate queues and wards, is necessary to ensure that the transgender population can access healthcare services properly, he added.
Samiul Alam Shammi, a successful transgender entrepreneur and transgender rights activist said that hospital staff, doctors, nurses, and other patients, need to be respectful towards transgender people. 
Notably, Prof Dr Md Shamiul Islam, Line Director, TB-Lep and NASP of DGHS, said that the district and upazila hospitals are open for people of all genders, and there's no specific bar for the transgender population.  However, if they feel uncomfortable seeking services, they can receive services from the drop-in centres, he said.
In addition, Dr Nurun Nahar Begum, Line Director of Clinical Contraception Services Delivery Program of Directorate General of Family Planning (DGFP), runs a project which provides services for those transgender individuals who identify themselves as women. Those who identify themselves as male can also avail counselling services from the staffers.
"However, individuals are either registered as male or female, as they do not have any medical identification of their gender. If there's any system of providing them with certificates regarding their gender identification, it would be easier for us to provide them with the required services," she added.
Dr Mohammed Sharif, Director, (MCH- Services) and Line Director of MCRAH, DGFP, added that DGFP has established 1103 adolescent-friendly health services centres in the country, where adolescents of all genders can access services.
*Names have been changed for privacy
The author is a staff reporter at The Daily Star. Email: [email protected].