Interview
Getting to work with the European Parliament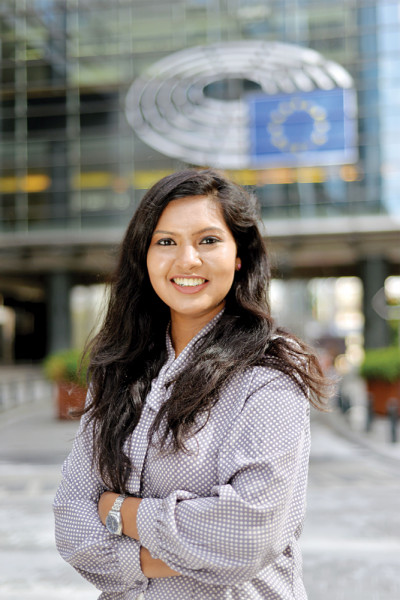 Anika Shahjabin from Bangladesh got the opportunity to undertake the Schuman Traineeship, a prestigious internship offered by the European Parliament. She joined the Directorate General of External Policies at Brussels. It is a great way to get acquainted with protocols of European institutions.
Every year, nearly 200 trainees get to work with the European Parliament through it. The traineeship is offered in a wide range of fields, such as law, multilingualism as well as EU external and internal policies. Although it is intended for European nationals, a few trainees are selected from outside Europe. Shahjabin made it to the top two to three percent pool of non-Europeans from over 35,000 candidates. Her six-month traineeship started in March 2021. Currently, she is a student of International Masters in Global Markets, Local Creativities, at University of Glasgow. Star Youth, The Daily Star, caught up with her to find out more about her work.
What were your responsibilities during your traineeship?
I worked for the Directorate General of External Policies of the Union, Unit for Asia, Australia, and New Zealand. My unit was responsible for providing policy recommendations to EU institutions, managing resources, parliamentary diplomacy, and support for democracy. It provides support to the President of the European Parliament and its political bodies on EU's external policies in Asia. I was responsible for researching and creating briefs and strategy notes for different delegations.
What social and cultural issues did you work on?
The traineeship offered me a great platform to talk about geopolitical issues pertaining to Bangladesh with members of the European Parliament, and to shape their perspectives on Bangladesh. I advocated delegations regarding Bangladesh's possible stance in digital governance, garments worker safety, vaccine rollout, Rohingya rehabilitation, and so on.
What are some of your most valuable lessons from the training programme?
 My most memorable task was to help a team formulate a climate strategy for Asia, which was later integrated into the European Climate Law. In another instance, I worked on an anti-spy exercise to catch foreign spies planted in Brussels city. While working, I realised that we are never too small to make changes to the system. I had 2 years of work experience. Yet, I was surrounded by trainees with PHDs or 10 to 12 years of professional experience. I was amazed by the knowledge of each of my fellow trainees.
What advice would you give young people who aspire to apply for this training programme?
I would tell aspirants to prepare their resumes according to the Europass format, and only consider roles that match their work experience and education. In addition, they should highlight their social service and work experiences more because that is quite a deciding factor when you are competing against such a large number of people.
The author is a freelance journalist. Email: labibakabir99@gmail.com.