Democracy International honours graduates of Young Leaders Fellowship Programme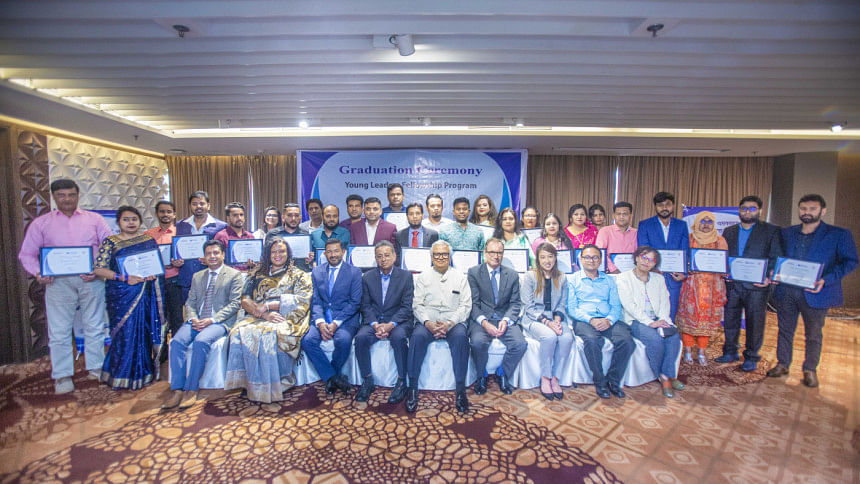 The Young Leaders Fellowship Programme graduation ceremony, organised by Democracy International (DI), concluded recently.
The joint US-UK Strengthening Political Landscape project, implemented by DI, awarded 26 young political leaders of Bangladesh with certificates. The event took place from 3 pm to 5 pm on March 31 at Hotel Doreen, Gulshan 2.
The ceremony marks the 18th batch of young leaders who completed the YLFP four-month course aimed to bring fellows from different parties to play meaningful roles in the political decision-making process to foster positive and lasting change.
The Young Leaders Fellowship Programme equips young politicians with practical knowledge of the political landscape, identifying social issues and policymaking to aid the general populace.
Up till now, the programme has already trained over four hundred young leaders affiliated with different political parties including Bangladesh Awami League (AL), Bangladesh Nationalist Party (BNP), and Jatiyo Party (JaPa).
Economic Advisor to Prime Minister Dr Mashiur Rahman, the Standing Committee Member of BNP, Amir Khasru Mahmud Chowdhury, Jatiyo Party's MP Rana Mohammad Sohail, and the British High Commissioner to Bangladesh, Robert Chatterton Dickson attended the event.
The Acting Deputy Director of USAID, Office of Democracy, Human Rights and Governance, Medhawi Giri and Democracy International's Chief of Party, Dana L Olds handed over certificates to 26 YLFP fellows.
Afterwards, the graduates shared their insights and experiences on channeling empathetic political leadership skills from YLFP to help counter polarisation in the political landscape of Bangladesh.
"During the fellowship programme, you've worked together, and solved community issues," shared Dana L Olds.
"You are showing your communities and other political leaders that cooperation and competition can exist simultaneously; political adversaries do not have to be enemies," concluded Democracy International's Chief of Party, Dana L Olds.