BYLC's Youth Leadership Summit: Day 2 focuses on transitioning vision into action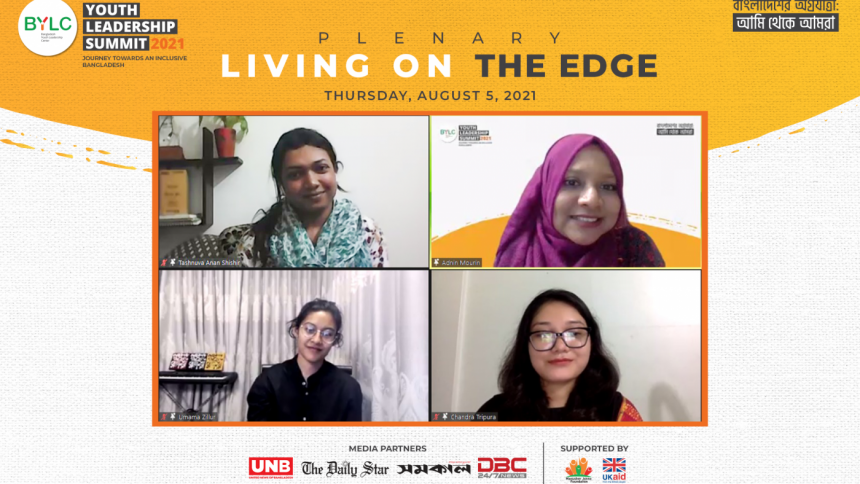 Bangladesh Youth Leadership Center (BYLC) began their four-day Youth Leadership Summit on August 4. This year, the summit kicked off with a focus on diversity and inclusivity. The virtual event, supported by Manusher Jonno Foundation (MJF) and the Foreign, Commonwealth and Development Office (FCDO) of the UK, brought together over 300 delegates from 149 educational institutions across 45 districts for a four-day leadership training, discussion on social issues and collaborative activities.
The theme of this summit is 'Journey towards an Inclusive Bangladesh'. With the focus on diversity and inclusivity, BYLC executed the second day of the summit on August 5. The second day of the summit began with a discussion on leadership, followed by Plenary: Living on the Edge and Workshop: Translating Vision into Action.
The first session kicked off after reflecting on key takeaways from the previous session. Throughout the session, the instructor engaged with participants and conducted a discussion on differentiation of authority and leadership.
The second session was "Living on the Edge". It shone a light on the social stigmas and injustice that our marginalised groups have been dealing with for decades. The panelists in this session were Tashnuva Anan, Social Activist and News Anchor ; Umama Zillur, Founder and Director, Kotha; Chandra Tripura, Founder and Director, Hill Resource Centre (HRC); Executive Council Member, Asia Indigenous Peoples Pact (AIPP); and Vashkar Bhattacharjee, Program Manager, YPSA (Young Power in Social Action) and National Consultant (accessibility), a2i, Bangladesh Government. Each of the personas are working with different marginalised groups shared the struggles and challenges of the society from individual perspectives. Participants also shared their reflections. The conversation focused on leadership and how it can be exercised to raise concerns and take initiatives by the youth.
The third and final session was a workshop on "Translating Vision into Action". This session was followed by a small group activity. It was conducted by Jubair Islam. During this session, the instructor spoke about design intervention strategies through online platform such as digital posters, and videos, and share it in social media platforms using a hashtag. The day ended with a team building activity.
The author is a freelance journalist. Email: labibakabir99@gmail.com.