Faatiha's earnest mission of combatting climate change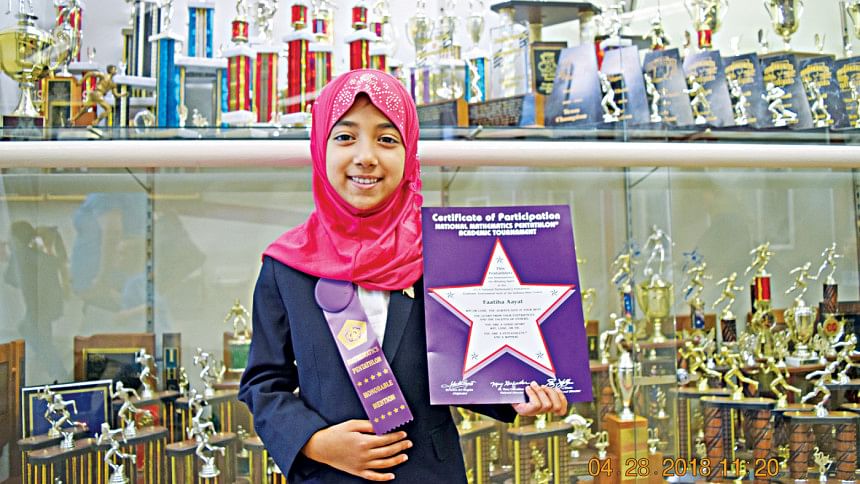 Faatiha Aayat is a Bangladeshi writer, child rights activist, and climate campaigner living in New York, USA.
She is the founder of an organisation called CHIL&D, where she works on climate, health, information, learning, and development.
"Less developed countries are the sufferers. The unequal share of vaccines, as well as the lack of financial support for climate mitigation and sustainable adaptation are issues that need attention," she says.
In 2018, at the age of just seven, Faatiha addressed the International Youth Day Conference at the United Nations ECOSOC Chamber on global warming and climate change. The following year, in 2019, she addressed the 74th General Assembly of the United Nations on child abuse, gender inequality and domestic violence.
In 2020, she spoke at the 1st Annual Harvard Undergraduate UNICEF Club Conference at Harvard University on climate mitigation and sustainable adaptation.
Faatiha was a stakeholder in drafting the Glasgow Agreement for UN Climate Change Conference in Scotland in 2021 as part of the United Nations Framework Convention on Climate Change. Her prototypes of Space Rover Perseverance and Helicopter Ingenuity were nominated for display in the Jet Propulsion Laboratory of NASA.
 In the same year, she was honoured as the Featured Speaker of the UNGA76 Science Summit and as the Lightning Speaker of Global Climate Action Summit at the Georgia Tech University.
In addition, three children's books by her have been published.
Faatiha presents mathematics, science, coding, international news, storytelling, Qur'an recitation and tafsir for children on her own Facebook page and YouTube channel.
She also received the Amazing Artist Award in the Ocean Under Thread category at the Advena World Art Competition, and her paintings are on display at the Colors of Human Art Gallery in the USA.
Faatiha was invited to the United Nations Day celebrations at Brooklyn Borough Hall and the International Girls' Day celebrations at UN Headquarters in 2016.
In addition, she received a certificate of recognition by New York State Senator John Liu and Brooklyn Borough President Eric Adams in appreciation of her contribution to the children of the Bangladeshi community in New York.
Alongside her academic studies, she likes to stay up to date with news on world politics, climate, and commerce.
 "My parents inspire me the most. My interest in mathematics, science, Qur'an recitation, and coding, are all because of their sincere efforts," concludes Faatiha.
The author is a freelance journalist. Email: [email protected].