DW AKADEMIE LOCAL MEDIA HUB BOOTCAMP
Future of Bangladeshi journalism arrives at the scene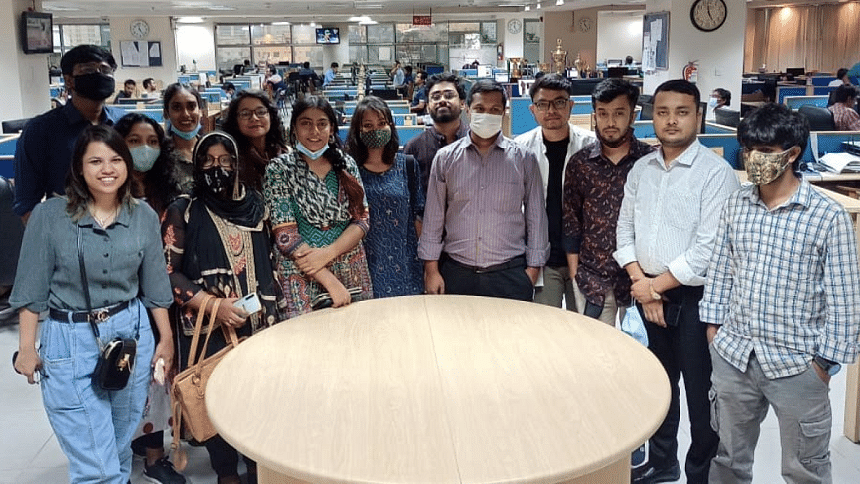 The late 2000s and the early 2010s saw a new crop of footballers enchanting the world. The Messi-Iniesta-Xavi trio was the brightest of the stars in the Barcelona dream team, hailed as one of the best ever. And these once-in-a-lifetime footballers didn't come from thin air to conquer the world.
Like most success stories, this trio – and a significant portion of that formidable team – had their start in the form of a football academy, La Masia. The academy moulded those talents and cemented their base, and the rest was carried by their own merit.
As disproportionate a comparison it may sound like, but being part of a "bootcamp" with some of the brightest journalism students of the country felt like being part of something similar.
DW Akademie, the international centre for media development of German public broadcaster Deutsche Welle, launched the Local Media Hub Fellowship in Bangladesh earlier this year, calling on second and third-year journalism students from public universities to join the journey of becoming a "complete journalist who can contribute independently to the mainstream media in the country." From nearly a hundred applicants, 28 were given the call-up.
From October 29-31, these fellows assembled in Dhaka from all over the country for a three-day journalism bootcamp. Over an intense weekend, we participated in masterclasses conducted by veteran journalists, met industry leaders like Mahfuz Anam and Shykh Seraj and got to know each other.
On the final day of the bootcamp, I wondered what my takeaways were from the three days I spent there. The fellowship knocked on my door at a time when I was a bit lost, frustrated and fatigued. I wasn't sure whether my decision of picking journalism as a major and profession was the right one.
At the bootcamp, not only did I hear from people like Mahfuz Anam and attend sessions of celebrated journalists like Julfikar Ali Manik, but the mentors of the fellowship gave an ample amount of interpersonal time to all of us.
They opened up about their struggles, showed me how to overcome them and motivated me to be skilled in a way that the newsrooms of the country cannot help but notice my work.
I had a silly grin on my face because it was at that time I felt that the camp helped me regain my passion and motivation for professional journalism, something I wanted to do from a young age.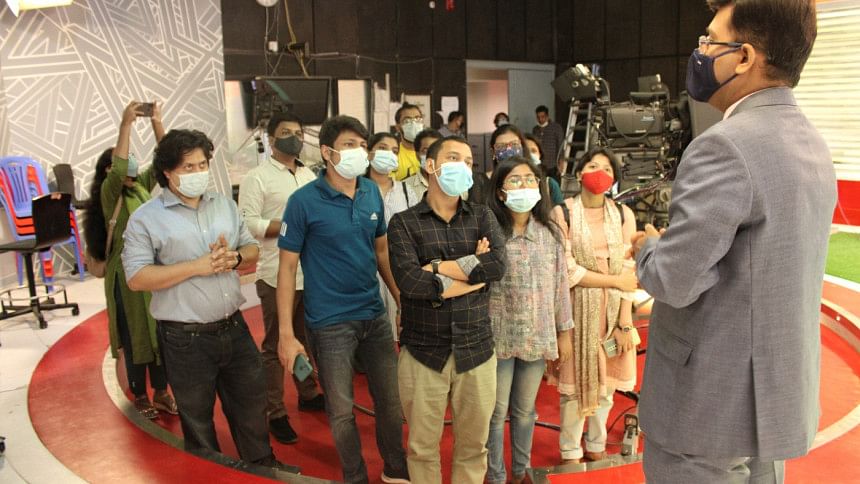 A gust of inspiration
Every time an aspiring journalist passes by The Daily Star office on Kazi Nazrul Islam Avenue, their head is bound to turn.
A group from the DW Akademie fellows went on a field trip to The Daily Star office to get an experience of what happens inside the "theatre of dreams for young journalists" and to meet its showrunner, the Editor and Publisher Mahfuz Anam, who participated in a very candid discussion with them.
He asked each of us about our motivation behind becoming a journalist and shared his story on how he became one. He advised the fellows on how to become a newsroom asset, discussed challenges of the profession and participated in an engaging QA session.
We visited The Daily Star newsroom afterwards to get a hands-on experience on how news desks function and their new studio, an embodiment of convergence in media.
Another batch of fellows visited Channel I at the same time and got an idea about the newsroom, editing and production control panels of a television station. There, they met another legendary figure of the media industry, Head of News at Channel I Shykh Seraj.
"Work with 100 percent sincerity. Don't run after money and fame; they'll follow eventually," he told the DW fellows.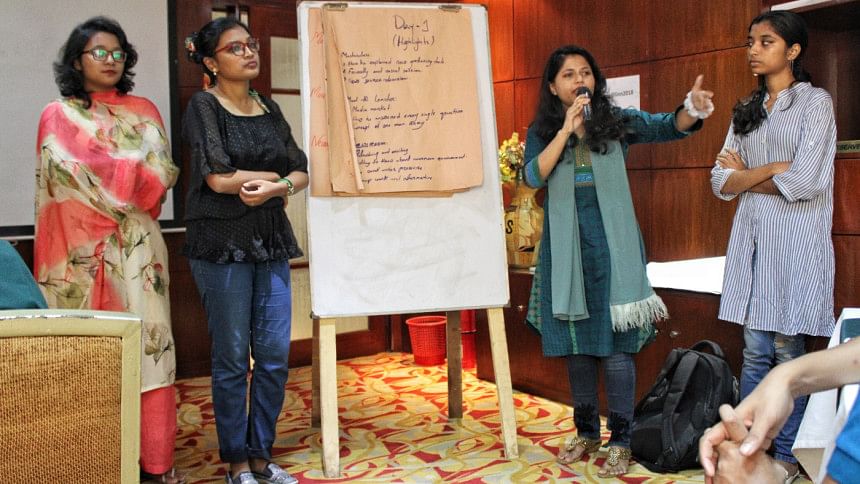 A look into the future
Over the three days, the fellows participated in masterclasses and lectures, where they learned about the field of professional journalism, the media job market and press freedom, far beyond the knowledge in our course textbooks.
Fellows learnt about source-building, fact-checking, situation of the job market and hacks to become the "one-man army" in order to ready themselves for future newsrooms.
Harun Ur Rashid Swapan, the DW correspondent in Dhaka and executive editor of The Daily Shomoyer Alo; multi-award-winning freelance journalist Julfikar Ali Manik; Shams Suman, station chief of Radio Bhumi 92.8 FM and Faruq Faisel, regional director of Article 19 (Bangladesh and South Asia) conducted these sessions.
"I was baffled to see the amount of knowledge the fellows hold. In my session, I tried sharpening their ideas on news reporting and shared my long experience as a journalist," Harun said.
Mahmud Menon Khan, the coordinator of the fellowship and facilitator at the bootcamp, said, "Enthusiastic is the first word that comes to my mind after observing the fellows for three days."
"The formation of a team consisting of the 28 brightest journalism students across the country was the main objective of the bootcamp, and we have succeeded in doing so," he added. "Now, the team has been formed. Over the next two years, these fellows will learn from national and international media experts. They will produce content for national and international media and make their mark all over," he added.
"The DW Akademie bootcamp helped me to connect with the fellows and a bunch of interesting people. I can't wait to start working with this team," said Shawon Shahnaz, a fellow studying at Rajshahi University.
"It was a great experience where I connected with new people, gathered useful experiences and got insights on the trade from experienced journalists."
"It was a successful bootcamp overall, a perfect start and I can't wait for the next two years when we are going to spend together and learn the trade, turning us into ready-to-go journalists," said Shams Rahman, a fellow from Dhaka University and a budding sports journalist himself.