Writing with foot, Manik scores A+ in SSC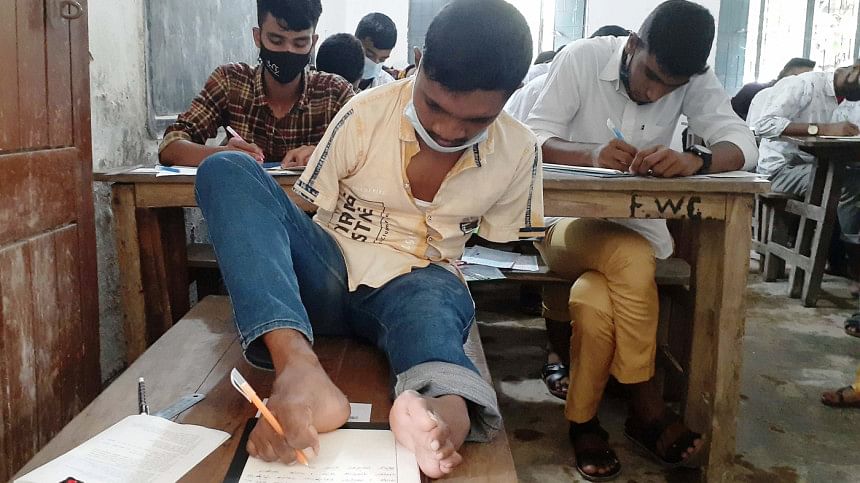 Life has been one living struggle for 16-year-old Manik Rahman.
Despite his physical disability causing a major hindrance in his life, it could not however hold him back.
Lacking two hands and having paralysis in one leg, Manik managed to score an A+ in the SSC exam by writing with his only usable foot.
Participating in the SSC examination from Fulbari Jachhi Mian Model Govt High School's science department, he scored 1,242 marks -- the highest in Kurigram's Phulbari upazila, making his family, teachers, and classmates proud.
Manik was born to a pharmacy owner Mizanur Rahman and Mariom Begum, of Chandrakhana village under Phulbari union in Kurigram's Phulbari upazila.
His only younger brother, Mahmudur Rahman, is a student of Class VI.
Manik's father, Mizanur Rahman, told Daily Star, "Our son Manik is really a manik [gem] to us. He is a hardworking boy who has always been interested in studies. His brilliant result in SSC examination has made us proud.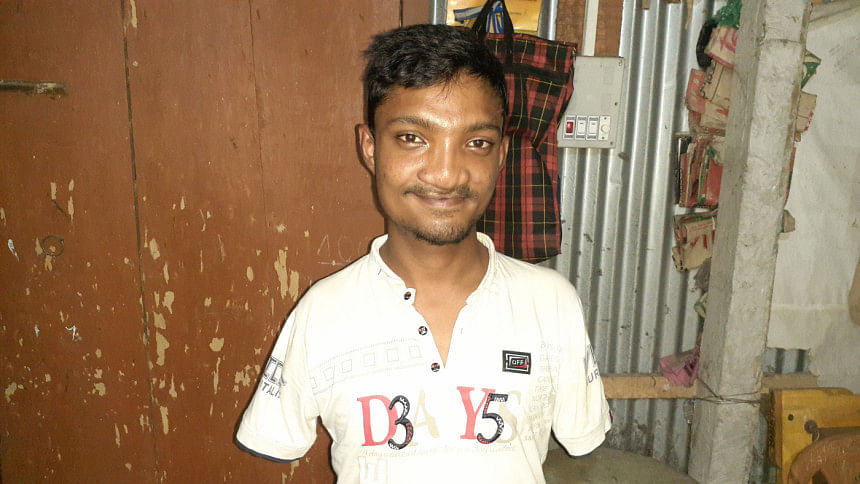 "There is poverty in the family, but we will support Manik for as long as he wants to study."
Despite no hands, Manik can talk with friends and relatives using mobile phone using his feet. Besides writing with his feet, he can type and is interested in computers and browsing the internet.
Manik's mother Mariom Begum told Daily Star that their son has been disabled since birth. "Manik can do everything with his feet. He can eat rice and drink water. He only needs help from others while bathing and dressing. His SSC result has made us happy. We are proud of him. We believe that Manik will be able to fulfil his dream."
Manik Rahman said with a smiling face, "I dream of getting admitted in an engineering university after getting good results in HSC examinations, and becoming a computer engineer.
"My parents, teachers, and classmates always inspire me. I hope everyone will pray for me."
Abed Ali Khandkar, headmaster of Fulbari Jachhi Mian Model Govt High School, told The Daily Star that Manik's SSC result is the highest in Phulbari upazila. It is expected that his score is a prominent one in Dinajpur Education Board.
"The indomitable brilliant Manik has made us and our school proud," he said adding, "Manik Rahman has been an example of inspiration for students in our area."