Shine taken off a noble initiative
Many students may not get full set of textbooks today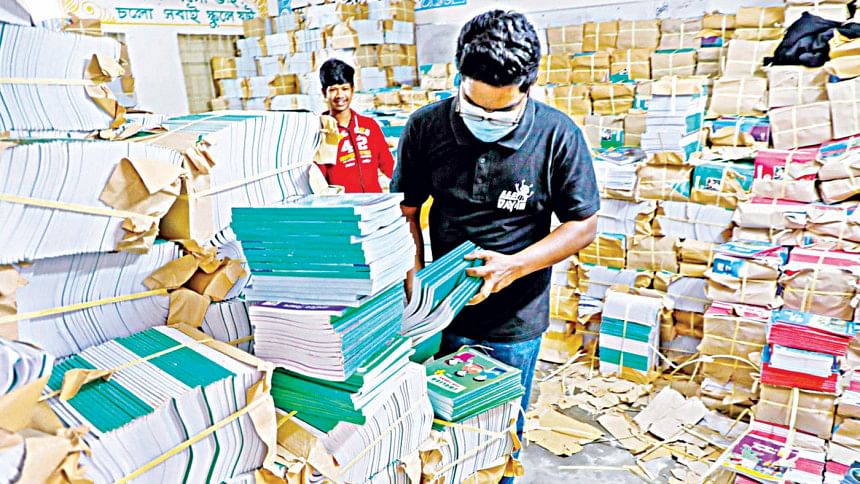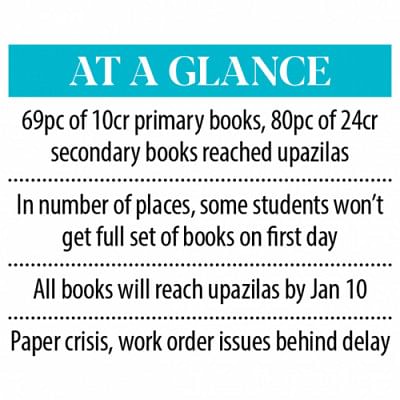 Even though festivals to distribute free textbooks will be celebrated at schools, many students will not get the full set of new books today, the first day of the latest academic year, thanks to the high price of paper and delays in placing work orders.
Prime Minister Sheikh Hasina yesterday officially inaugurated the distribution of free textbooks among students of pre-primary, primary and secondary levels for the 2023 academic year. She started the distribution programme at a ceremony at her office by handing over books to primary and secondary students in the morning.
National Curriculum and Textbook Board (NCTB) officials said the government will distribute 35.16 crore textbooks among 4.27 crore primary and secondary students.
Until yesterday evening, 69 percent of 10 crore primary textbooks and 80 percent of about 24 crore books for secondary students reached the upazilas. As the distribution is set to begin, this situation raises the question of whether all students will get their books on time.
NCTB Chairman Farhadul Islam, said in a number of places, some students will not get a full set of books on the first day. "But each student who will show up at schools during the textbook festival will get new books."
The delay will not cause many problems, he said, as not all students show up on the first day of school to collect all their textbooks.
He said all primary and secondary textbooks will reach the upazilas by January 10.
In addition to the paper crisis, several companies that won the tender for printing primary textbooks did not sign a contract with the NCTB, and this has contributed to the delay, said NCTB Member Prof Moshiuzzaman.
"We have to follow the procedures for awarding the work to second bidders if these printers don't go ahead with the work," he said.
After much delay, the work for printing primary books began on December 1. In spite of that, companies could print so many primary books within a short period because they have way fewer pages than secondary books.
Meanwhile, State Minister for Primary and Mass Education Md Zakir Hossen will attend a textbook festival for primary students at the central playground of Dhaka University.
Education Minister Dipu Moni will attend a similar programme for secondary students at Kapasia Pilot High School grounds in Gazipur.
Previously, the government used to distribute free textbooks only for primary students. And so, secondary students belonging to low-income groups or disadvantaged communities used to suffer.
Since 2010, the government has been distributing free textbooks among both primary and secondary students.
Before this whole initiative, printers would often create an artificial crisis by not printing and distributing books on time. In some cases, books used to hit the stalls in the March-April period or even later.
So far, around 430 crore textbooks have been delivered for free, garnering praise from home and abroad.
The success has led to significant improvements in enrolment at the primary and secondary levels and a decrease in the dropout rate, NCTB officials said.