Primary school students: Not more than 3 classes a day
In-person classes resume tomorrow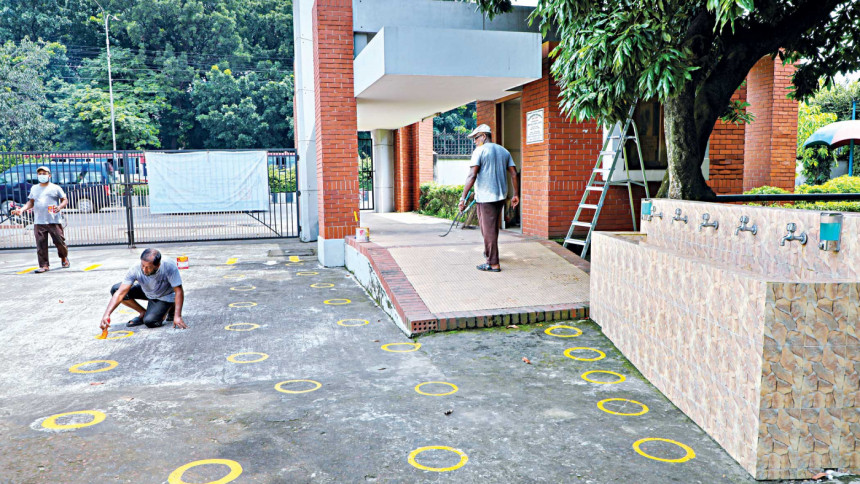 Primary students will attend three classes a day from tomorrow when in-person classes resume, Directorate of Primary Education (DPE) decided yesterday.
The DPE also asked teachers to make sure that only two students sit on each large bench to maintain social distancing inside the classroom.
Directorate of Secondary and Higher Education (DSHE) has asked all school authorities to reopen hostels ensuring enforcement of Covid-19 health safety protocols and keeping in mind the dengue fever situation.
Meanwhile, Health Minister Zahid Maleque yesterday said his ministry would recommend closing schools and colleges if the Covid infection rate surged again alarmingly.
He made the comment at a time when the school and college authorities are making final preparations for partial reopening of their institutions.
Following a significant fall in the Covid-19 daily positivity rate, the government on September 5 decided to resume in-person classes at schools in phases.
According to the decision, candidates of Higher Secondary Certificate, Secondary School Certificate exams of 2021 and 2022 and this year's Primary Education Completion Examination (PECE) would attend classes every day after the reopening of schools and colleges.
Students of classes 1 to 4 and 6 to 9 will have in-person classes once a week.
"Primary school students will have to attend three classes a day," Primary and Mass Education Ministry Additional Secretary Ratan Chandra Pandit told The Daily star.
He said it would not be possible for them to resume classes at primary schools in the flood-affected areas tomorrow.
The schools would reopen immediately after the improvement of the flood situation there, he added.
Yesterday, the DPE issued an order to the field level officials to inform schoolteachers about the class routine of primary schools.
In the order, it recommended holding three classes a day for each grade.
Candidates of Primary Education Completion Examination, for students near the end of their fifth year in primary school, will attend classes everyday while students of grade 1 to 4 will join classes once a week.
The grade-I students will attend classes on Tuesday, grade-II on Monday, grade-III on Sunday and grade-IV on Saturday. A 10-minute briefing on Covid awareness will take place every day at the onset of the day's educational activities, according to the routine.
Yesterday, the DPE issued another order stipulating responsibilities of field level officials, headmasters, teachers, guardians as well as students regarding running school activities amid the pandemic.
It asked teachers to keep the school shut in any areas that the government would declare a "red zone" considering Covid infection rate. The order said the authorities will have to ensure all students, teachers and staffers wear masks and maintain physical distancing at the classroom. It asked the authorities to take steps so that there is no crowding on the school premises, and only two students sit on each bench of a classroom.
The DPE further asked teachers to make sure that all, including students, enter the campus after their body temperatures are checked. Besides, handwashing facilities and cleanliness of the campus must be ensured.
HEALTH MINISTER ON CLOSURE
Speaking to reporters while visiting a Bachelor of Dental Surgery (BDS) entrance exam centre at the capital's Government Titumir College, Health Minister Zahid yesterday said schools and colleges were resuming classes as the daily Covid infection rate dropped.
"If we see an alarming increase in the infection rate [of Covid-19], the education ministry will decide on closing schools. We will give our recommendations," he said.
"We don't want our students to get infected [with Covid]."
Asked about the government's plan to vaccinate students aged under 18, Zahid said the World Health Organization has not approved Covid vaccination for people under 18, but some countries are inoculating children aged over 12.
"We are following the issue and a discussion with the WHO is underway. We will provide the vaccine if we get approval," he added.
Educational institutions across the country were closed on March 17 last year to curb the spread of Covid-19. The closure led to the cancellation of classes and examinations, throwing the academic lives of more than four crore students of around 1.5 lakh educational institutions in disarray.